Wonderful Town
July 10, 11, 12, 13, 18, 19, 20, 25, 26
Music by Leonard Bernstein
Book by Joseph Fields and Jerome Chodorov
Based upon the Play "My Sister Eileen"
by Joseph Fields and Jerome Chodorov
and the stories by Ruth McKenney
Lyrics by Betty Comden and Adolph Green

Directed by E. Kyle Minor
Musical Direction by Jane Ryan
Choreography by Melissa Newsome
Synopsis: Wonderful Town tells the story of two sisters from Ohio who come to New York to make their fortunes: Ruth, the older, wisecracking one in writing and journalism, and Eileen, the younger, beautiful one in show business. Their subsequent adventures, which include dive apartment-dwelling on Christopher Street, involve the various wacky denizens and citizens of bohemian Greenwich Village they encounter while on their search for fortune, fame and romance in the big city.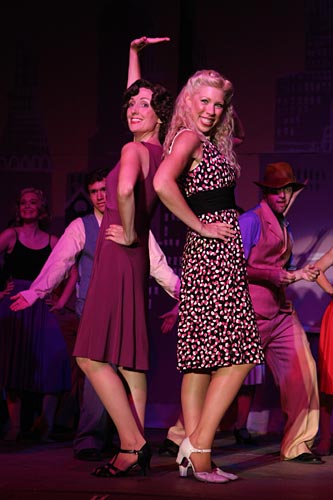 Production History: Wonderful Town debuted on Broadway at the Winter Garden Theatre on February 25, 1953 and ran for 559 performances, closing on July 3, 1954 and starred Rosalind Russell and Edith Adams. It was directed by George Abbott, choreographed by Donald Saddler and produced by Robert Fryer.
The show was broadcast live as a television special on CBS in 1958, starring Russell. A production opened in the West End at the Queen's Theatre in August 1986 and closed in March 1987, after playing at the Watford Palace, with Maureen Lipman (Ruth) and Emily Morgan (Eileen).
A revival opened on on Broadway at the Al Hirschfeld Theatre on November 23, 2003 and closed on January 30, 2005, after 497 performances. With direction and choreography by Kathleen Marshall, it starred Donna Murphy, and later Brooke Shields. The production was based on the 2000 Encores! production.
Awards: Winner of 5 Tony Awards (Best Musical, Rosalind Russell for Best Actress, Best Scenic Design, Best Choreographer, Best Conductor and Musical Director), plus the Theater World Award in 1953.
The 2003 revival was nominated for six Tony Awards, winning one for Best Choreography (Kathleen Marshall). Jennifer Westfeldt won the 2004 Theater World Award. The show also won two Drama Desk Awards (Donna Murphy for Outstanding Actress in a Musical and Kathleen Marshall for Choreography.
Musical Numbers
Act I
Overture
Christopher Street--Tour Guide and The Villagers
Ohio--Ruth Sherwood and Eileen Sherwood
Conquering New York--Ruth, Eileen, First Cadet, Violet and The Villagers
One Hundred Easy Ways--Ruth
What A Waste--Robert Baker and Associate Editors
A Little Bit in Love--Eileen
Pass the Football--Wreck and The Villagers
Conversation Piece--Ruth, Eileen, Frank Lippencott, Robert and Chick Clark
A Quiet Girl--Robert
Conga--Ruth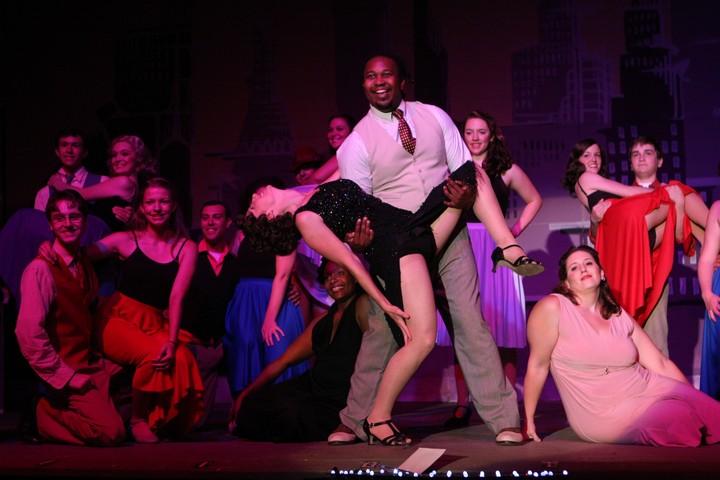 Act II
My Darlin' Eileen--Eileen, Drunk and Policeman
Swing--Ruth and Villagers
Ohio (Reprise)--Ruth and Eileen
It's Love--Robert and The Villagers
Ballet at the Village Vortex
Wrong Note Rag--Ruth, Eileen and The Villagers
It's Love (Reprise)
'Wonderful Town' is wonderful at Richter
Sisters, sailors and swing make this musical comedy a winner
By Chesley Plemmons
Theater Critic
"Wonderful Town," now at Danbury's outdoor Musicals at Richter, is Leonard Bernstein's second musical comedy valentine to New York City; the first was "On the Town." One could say he wrote three, but "West Side Story" is a bit bleak for a valentine.
The Richter production, under the able direction of E. Kyle Minor, is blessed with strong singers in all the major roles. The show ­-- which unfolds against the colorful canvas of Greenwich Village among other New York neighborhoods ­-- is a lively, tuneful affair, filled with terrific songs you've either forgotten or unfortunately never had the chance to hear.
"Town" is based on Ruth McKinney's "My Sister Eileen," an autobiographical account of how she and her younger sister, Eileen, came to New York in search of success and love, and surprisingly found both. What more appealing premise could there be than innocents trying to make their way in the burly-burly of New York City?
McKinney's novel had already been turned into a hit play by Joseph Fields and Jerome Chodorov before composer Bernstein and his long-time collaborators on lyrics, Betty Comden and Adolph Green, turned the story into a 1953 Tony Award-winning musical.
The adventures of naïve Ohio sisters Ruth and Eileen, and their ultimate triumph, is a musically solid and wonderfully funny journey of discovery.
Though "Wonderful Town" has never had the enduring popularity of Bernstein's "West Side Story," it nevertheless is a thoroughly entertaining work filled with appealing characters and a score that needs to be heard more often. In addition to really witty number and lovely ballads, Bernstein paid homage to three musical motifs of the period: the conga dance craze, swing and hep cat music.
Jessica Smith has the role of wisecracking Ruth, a role that Waterbury actress Rosalind Russell appropriated as her own in the first film version of "My Sister Eileen," and later in "Wonderful Town," for which she won a Tony as Best Actress in a Musical.
Smith looks terrific and nails Ruth's dry humor perfectly. As the older, smarter, and lets face it, less beautiful sister, she gets to sing the show's clever wallflower song, "One Hundred Easy Ways to Lose a Man."
As an aspiring novelist, Ruth's attempts at selling her stories fall short even though she meets handsome editor Bob Baker (Tom Morris), who just might be the man for her ­-- if he doesn't all in love with Eileen ­-- as everyone in New York seems to do.
Out of work Ruth gets hoodwinked into thinking she has a freelance job as a reporter assigned to a shipyard story. There she ends up with half the Brazilian navy following her around in a conga line. It's one of Broadway's most inspired dance numbers -- and don't miss the lyrics.
Dance in Richter productions has often seen shoehorned in, but in "Wonderful Town" Melissa Lahoud Newsome's choreography seems right sized for the show and well rehearsed ­-- especially the jazz club duo, "Swing" and "Wrong Note Rag."
Perhaps "Wonderful Town" has never found its niche with audiences because it, like Ruth, may be too smart for its own good. Don't call it a thinking man's show, but it's clearly head and shoulders above most scripts.
Comden and Green were masters at providing lyrics that were both witty and accessible, and never was their output more felicitous than in this show. Who else could write "Why, oh, why, oh, why oh, why did I ever leave Ohio?" or "Conversation Piece," in which a group of people try in vain to make small talk. Dry and sardonic as a Sondheim ditty, "It's about this whale!" someone blurts, trying to explain "Moby Dick."
As the man-attracting Eileen, Bridget Krompinger is blonde and blissfully innocent to her magnetism, even as all the guys in sight are falling all over themselves for her. It's drug store manager, i.e. soda jerk, Frank Lippencott (Matthew Farina) who turns out to be on her real wave length. As the show's sweetheart, she naturally gets the love songs: "A Little Bit in Love" and "It's Love," which she shares romantically with Baker.
Smith, Krompinger and Baker handle their songs with ease though Baker should resist forcing. Also vocally secure was Mensah Robinson as Wreck, an ex-football player and the sisters' Greenwich Village neighbor.
Adding colorful cameos are Nancy Gilligan as Violet, a lady who could have rented by the hour, Eric Greenfeld as Mr. Appopolous, the girls' landlord, Karen Samuels as Helen, Wreck's girlfriend, and Carl LePere as the smooth-talking newspaperman Chick Clark.
Costumes by Aurora Greaves are Greenwich Village eclectic, and the sets designed by Andy Salom move the action all over town like an express subway.
In addition to Minor's good work, praise is due to musical director Jane Ryan and orchestra conductor Stephanie Gaumer Klein. Bernstein's work is the berries, but it glistens even brighter with the kind of affectionate attention it gets here.
"Wonderful Town" plays through July 26 at Musicals at Richter, Richter Arts Center, 100 Aunt Hack Road, next to the Richter Golf Course, Danbury. Performances are Fridays through Sundays at 8:30 p.m. Grounds open at 7:15 for picnicking, with chair rentals, soft drinks and snacks available on site.
Tickets are $21, $16 for seniors and $13 for students and children. Ticket prices include $1 for the Richter House Restoration Fund. Group rates available.
Call (203) 748-6873, or visit www.musicalsatrichter.org.
Full Synopsis (from Wikipedia, photos from 2003 Broadway Revival)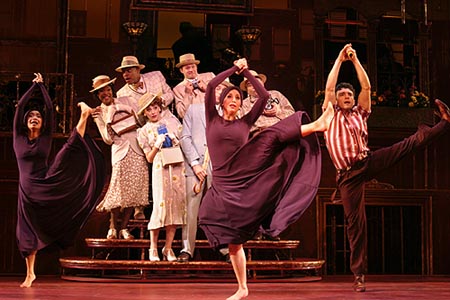 Act I
During the summer of 1935 in Greenwich Village, New York, a tour guide leads a group of sightseers on a tour of "Christopher Street" and its colorful citizens.When the tourists have departed, the witty Ruth Sherwood arrives with her pretty younger sister Eileen. The two have just arrived from Ohio, determined to forge a life in the big city as a writer (Ruth) and an actress (Eileen). Soon they are living in a basement apartment, recently vacated by a local prostitute Violet, loaned by the "lovable" landlord, Mr. Appopolous and shaken frequently by dynamite from the construction of a subway underneath them and Violet's returning customers. The sisters are soon stricken with homesickness for "Ohio".
The next morning, Ruth and Eileen set out to try their hand at "Conquering New York", only to find defeat and humiliation. Eileen, at least, has met Frank Lippencott, a local Walgreen's manager who has developed a crush on her. Ruth, however, is left to wonder at her sister's magnetic appeal and her own unique romantic abilities; a talent for repelling men so successful that she could write a book entitled "One Hundred Easy Ways" to lose a man.
Eventually, Ruth talks her way into the offices of a short story magazine, where she meets Bob Baker. Bob likes Ruth, but advises her that she has little chance of success, and tells her flat out "What A Waste" of money and time it was to come to New York. Undaunted, Ruth leaves three stories with Bob in the hope that he will read them.Meanwhile, Eileen has been eating all of her lunches (free, naturally), at Walgreen's, and finds herself "A Little Bit In Love" with Frank. Bob arrives at the apartment to talk to Ruth, and Eileen invites him to dinner.The upstairs neighbors, Wreck, an out-of-season American football player, and his live-in lover, Helen, ask the girls to hide Wreck while Helen's mother Mrs. Wade is in town. Eileen happily agrees to stow him in their apartment. Wreck describes his lucky history as a student at Trenton Tech, who got by on his ability to "Pass The Football".Eileen has invited Frank Lippencott, Bob Baker, and Chick Clark, a slimy newspaper scribe who she has met with the object of furthering Ruth's career, over for potluck supper. Unaware of each other's feelings, both girls find themselves attracted to Bob. Soon all five of them are seated around the cramped apartment trying to fill the awkward silence, in "Conversation Piece". Meanwhile Helen deals with her overbearing mother.Ruth and Bob talk over the quality of her stories, and he advises her to write about what she knows rather than flights of fancy. Both say several wrong things, and he finally tells her off. He soon regrets it as Ruth rushes inside in tears, and Bob is left to sing of his inability to find "A Quiet Girl" to love.Anxious to be alone with Eileen, Chick Clark creates a bogus assignment for Ruth. He sends her off to the Brooklyn Navy Yard to interview a group of Brazilian sailors. She quickly realizes that their sole interest is to learn the "Conga".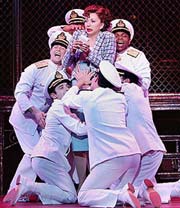 The sailors follow Ruth home, where the girls soon find themselves in chaotic confusion, as all the citizens of Christopher Street join the conga line. Ruth runs into Bob and gives him a piece of her mind, while Eileen is hauled off to jail for causing the riot.
Act II
In the local jail Eileen finds herself practically running the place, with Officer Lonigan and his brigade of doting Irish police officers at her beck and call. Given her name, they are convinced that she is Irish, and they serenade her with "My Darlin' Eileen". Ruth comes to assure her that she will bail her out as soon as she collects the money from her new job as a promoter for the Village Vortex, a local nightclub. At the club, Ruth "digs the rhythm" of "Swing". Meanwhile, Wreck is masquerading as a wealthy art collector to meet Helen's mother's approval, and Chick is frantically calling Eileen, trying to make things right.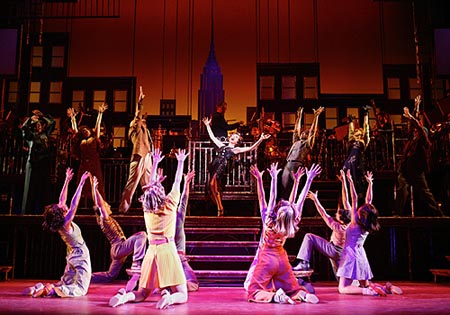 "Swing"
Thanks to Bob, Eileen is soon released from jail, and the sisters learn that Appopolous has been so scandalized by Eileen's arrest, he has threatened to evict them. Eileen discovers that Ruth is also attracted to Bob Baker, and the two of them wish, for a moment, that they had never left home, reprising "Ohio". Eileen is then confronted by the rhythmical Speedy Valenti, owner of the Village Vortex, who gives her her New York debut as a singer. Appopolous immediately changes his tune now that one of his tenants has a paying job, and extends their lease.Eileen soon learns that Bob Baker has quit his job as a result of a disagreement with his boss about Ruth's story on the Brazilian sailors. Eileen is thrilled that Bob quit his job and assures the unbelieving Bob that "It's Love" that he feels for Ruth. Bob, faced with the facts, realizes the truth: it is love.The mood at the Vortex turns jazzy with the "Ballet At The Village Vortex". Eileen finds herself with a case of stage fright and she convinces Ruth to join her on stage to sing the "Wrong Note Rag". Chick arrives to make amends and presents Ruth with a press pass: his boss has read her story about the Brazilian Sailors and loved it, and given Ruth a job. The Vortex is alive with singing and dancing, and Bob decides it's the perfect moment to let Ruth know how he feels. The curtain closes as Eileen and the guests at the club sing "It's Love" in celebration of Ruth and Bob's newfound affection.
Cast
Ruth Sherwood - Jessica Smith (New Fairfield) Eileen Sherwood - Bridget Krompinger (New Fairfield) Robert "Bob" Baker - Tom Morris (Danbury) Wreck - Mensah Robinson (Danbury) Frank Lippencott – Matt Farina (New Fairfield) Chick Clark – Carl LePere (Carmel, NY) Appopolous - Eric Greenfeld (Brookfield) Tour Guide/Officer John Lonigan – Joseph P. Hudson (Danbury) Violet – Nancy Gilligan (Mahopac, NY) Speedy Valenti – Ronnie Blois (Sherman) Helen Wade – Karen Samuel (Danbury) Mrs. Wade – Barbara Kessler (Danbury)
Featured Ensemble - Mike Oldham, Aislinn Gavin (Bethel); Allie Bukowski, Joe Bukowski, Charity Ferris, Sammy Panzarino, Kelly Reagan, Melanie Romano, Kate Valiska (Danbury); Brett Pond (New Fairfield); Amanda Eventoff (Newtown); Abigail Booth, Kaitlyn Fay (New Milford); Emily Delassio, Chris DeMarchis, Caitlinn Keeler, Kris McCormick (Ridgefield); Ronnie Blois (Sherman); Matt Sumski (Waterbury); Natalie Michaels (Wilton); Janice Gabriel (Brewster, NY); Courtney LePere (Carmel, NY); Matthew Recine (Yonkers, NY).