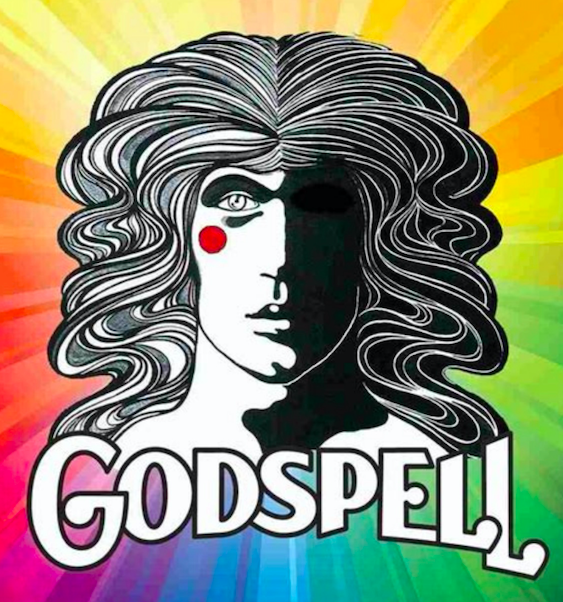 JULY 23 - AUGUST 7

Directed and Choreographed by
Bradford Blake


Music Direction by
Peter Randazzo
Book by John-Michael Tebelak
Music and New Lyrics by Stephen Schwartz
Conceived and Originally Directed by John-Michael Tebelak
Based on The Gospel According to St. Matthew
****************************************************************
Now Accepting AUDITIONS!!!
All auditions for Godspell
will be conducted by video submissions,
to be received no later than
Saturday, May 22nd
click on the link below to submit audition
Audition Requirements

Seeking performers 18 and older.
16 bars of a song
that best shows your vocal range and song styling.
(preferably no a cappella)
Songs from the show are permitted.
Two nursery rhymes of your choosing
using different character voices,
as over the top or off the wall as you like!!!
Performers of diverse backgrounds
are encouraged to audition
and all roles are open.
The creative team is especially looking for performers with special skills, such as musical instrument ability, impersonations, tap or acrobatic dance, circus skills (e.g. juggling), magic, sign language, etc.
Please note that positions are unpaid
and housing is not available.
Callbacks will be scheduled as needed.
For the safety of the cast, crew, and creative team,
MAR will ask all those cast to
provide proof of full vaccination against COVID-19.

For a show summary and cast breakdown,
click HERE
How to Audition:
To submit your audition, click on the link below.
This will bring you to our online audition form.
Please fill it out completely.
You will be prompted to answer questions, or attach items.
(Please review the 2021 Musicals at Richter Guidelines,
see below)
Any necessary video attachment
must not be larger than 25MB.
If you prefer, you have the option
to add a video link(s) to the online form.
Callbacks will be scheduled as needed
and in accordance with the
latest state and community guidelines for COVID-19.
Video Audition Guidelines:
For your singing audition,
"slate" yourself at the beginning of the video
by clearly stating your name,
and the name of the song you are singing your 16 bars from.
Your 16 bars should demonstrate
your vocal range and song styling abilities.
(If your song is longer than 16 bars,
only the first 16 bars will be considered as your audition)
Please use recorded (or live) instrumental
accompaniment for your selection or a karaoke or other backing track (preferably with no other vocals).
preferably no a cappella submissions, please.
Your 16 bars may be from Godspell.
*********************************************************************
For your acting audition,
"slate" yourself at the beginning of the video
by clearly stating your name, and the names of the
two nursery rhymes of your choosing.
Use different character voices,
as over the top or off the wall as you like!!!

We want to see your creativity, personality and
improvisational skills!!!
*********************************************************************
To submit audition,
click HERE
*******************************************************************************************

2021 Musicals at Richter Guidelines
Please take a moment to review the information below.
Please email info@musicalsatrichter.org, if you have any questions.
1. Musicals at Richter (MAR) is Connecticut's longest running outdoor theater with all performances and most rehearsals outside. If you are cast, please come prepared to spend time outside (ex. bring water, sunscreen, bug spray, umbrellas...)
In the event of rain on a show night, the MAR Board will decide whether or not to cancel the show and the cast will be notified.
2. MAR is a 501 (c) (3) non-profit organization that depends on the support of its members and volunteers to help bring our season under the stars to life. If you are cast, you will be asked to contribute to our team in the following ways:
a)Cast members volunteer their time and are not paid a salary.
b)Cast members are expected to volunteer at Tech Days! There is a Tech Day for each Main Stage production, days to open and close the season and for the Youth Workshop productions. Ways of helping can range from cleaning the Richter house to set building and painting.
c) On dress rehearsals and performance nights, cast members will take turns with assigned duties for the show to ensure that the Richter house and grounds are maintained.
3. All cast members will sign an actor's contract with Musicals at Richter which covers the rules and responsibilities.
4. Bios must to be provided by the given deadline for inclusion in the playbill.
5. Publicity photos will be taken for each show. Photos may be used by MAR for advertising the show as well as general promotion of the MAR organization (ex. use in flyers, the website, etc.)
6. Rehearsals for each show run approximately 8 weeks followed by 3 weeks of performances. We ask that you inform us in advance of any potential scheduling conflicts. Participation at all dress rehearsals and all performances is mandatory.

7. Scripts will be made available on an as needed basis. You will be asked to provide a $25 check made out to MAR as a deposit. Your deposit will be returned to you at the end of the show when your script is returned in the condition in which it was received. (Any markings must be made in pencil and erased)

8. It is required that you are FULLY Vaccinated for Covid-19 to either perform in a show, or work on any show in any capacity.
I understand that if I am cast I will be responsible for all of the above
On the audition form, please Indicate that you have read,
and agree to the preceding policies.