Auditions
Final Casting Call!
In the Heights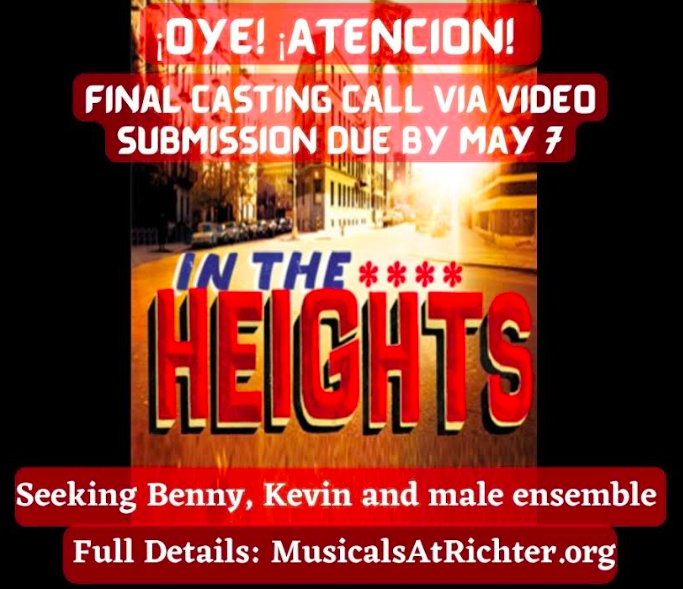 ********************************************************************************
Accepting Video Submissions!


The creative team is seeking:
Benny (18-30; tenor) African-American. Usnavi's tenacious and confident best friend and the dispatcher at Rosario Taxi. Very ambitious. Handsome, bright, and crushing on the "boss's daughter," Nina. Must rap well.
Kevin Rosario (40+; baritenor) Puerto Rican-born father to Nina. Owns and runs a taxi dispatch with his wife, Camila. Traditional, hard-working Latin father, over-protective, loving, but also has a temper. He can be quick to act without considering the repercussions of his actions.
Male Latinx performers (15-25) who sing and dance in the ensemble. These other residents of the Heights have stories of their own and great pride for their ancestors. Hip hop, breakdancing and Latin dance skills are a plus.

Auditions are by video submission.

To submit,
interested performers should send a video (or link to video) of themselves singing a song from "In the Heights" (or in the style of the show) to director Matthew Farina (matthewfarina8@gmail.com) and music director Andrew Gadwah (a.gadwah@gmail.com).

Submissions are due by Saturday, May 7 at noon.
Please note that all positions are unpaid and housing is not available.
******************************************************************************************************
In addition to performers, Musicals at Richter seeks volunteers from the area for
backstage duties such as set construction, properties, tech (lights/sound)
and running crew, along with front-of-house operations such
as house management, ushering and concessions.

Interested individuals are invited to email the theater (info@musicalsatrichter.org). Several positions (such as stage managers) may offer a stipend or possible internships for credit.


For further information about Musicals at Richter, its season and volunteer opportunities, e-mail info@musicalsatrichter.org.
***********************************************

2022 Musicals at Richter Guidelines
Please take a moment to review the information below.
Please email info@musicalsatrichter.org, if you have any questions.
1. Musicals at Richter (MAR) is Connecticut's longest running outdoor theater with all performances and most rehearsals outside. If you are cast, please come prepared to spend time outside (ex. bring water, sunscreen, bug spray, umbrellas...)
In the event of rain on a show night, the MAR Board will decide whether or not to cancel the show and the cast will be notified.
2. MAR is a 501 (c) (3) non-profit organization that depends on the support of its members and volunteers to help bring our season under the stars to life. If you are cast, you will be asked to contribute to our team in the following ways:
a)Cast members volunteer their time and are not paid a salary.
b)Cast members are expected to volunteer at Tech Days! There is a Tech Day for each Main Stage production, days to open and close the season and for the Youth Workshop productions. Ways of helping can range from cleaning the Richter house to set building and painting.
c) On dress rehearsals and performance nights, cast members will take turns with assigned duties for the show to ensure that the Richter house and grounds are maintained.
3. All cast members will sign an actor's contract with Musicals at Richter which covers the rules and responsibilities.
4. Bios must to be provided by the given deadline for inclusion in the playbill.
5. Publicity photos will be taken for each show. Photos may be used by MAR for advertising the show as well as general promotion of the MAR organization (ex. use in flyers, the website, etc.)
6. Rehearsals for each show run approximately 8 weeks followed by 3 weeks of performances. We ask that you inform us in advance of any potential scheduling conflicts. Participation at all dress rehearsals and all performances is mandatory.
7. Scripts will be made available on an as needed basis. You will be asked to provide a $25 check made out to MAR as a deposit. Your deposit will be returned to you at the end of the show when your script is returned in the condition in which it was received. (Any markings must be made in pencil and erased)

8. It is required that you are FULLY Vaccinated for Covid-19 to either perform in a show, or work on any show in any capacity.
I understand that if I am cast I will be responsible for all of the above
On the audition form, please Indicate that you have read,
and agree to the preceding policies.
************************************************************
In The Heights - Cast

All roles are available;
Latinx and multiethnic candidates are encouraged to audition.
Age ranges are suggested.
Usnavi de la Vega (18-35; baritenor) Owner of De La Vega Bodega. An emigrant from the Dominican Republic and the narrator of the show. Youthful, awkward, and sincere owner of a convenience store. Urban, articulate, funny, harbors a crush on the local salon beauty, yet has made no attempt to act on that. Not a "cool stud," but charming and lovable. Must rap well.
Nina Rosario (18-early 20s; mezzo-soprano) A righteous first generation Puerto Rican- American young woman who's always been a straight A student, Nina has just finished her freshman year at Stanford University. She is the daughter of Kevin and Camilia Rosario. She puts a lot of pressure on herself because she is the only member of her family and friends who made it to college. She is best friends with Vanessa and a beacon of hope and inspiration to all who know her. She represents the opportunities outside of "the Heights."
Kevin Rosario (40+; baritenor) Puerto Rican-born father to Nina. Owns and runs a taxi dispatch with his wife, Camila. Traditional, hard-working Latin father, over-protective, loving, but also has a temper. He can be quick to act without considering the repercussions of his actions.
Camila Rosario (40+; alto) Strong-willed wife and business partner to Kevin, and mother to Nina. A dynamic Puerto Rican woman, she typically defers to Kevin, but steps up to voice her opinion when their family's future is on the line. She is cool-headed yet keeps a subtle but strong leash on Kevin.
Benny (18-30; tenor) African-American. Usnavi's tenacious and confident best friend and the dispatcher at Rosario Taxi. Very ambitious. Handsome, bright, and crushing on the "boss's daughter," Nina. Must rap well.
Vanessa (18-30; strong dancer, mezzo soprano with strong belt) Latina stylist at the local salon and love interest of Usnavi. With a troubled home life, she wishes to get out to get somewhere better. She appears strong,but is in reality very vulnerable. Tired of cat-calls and empty promises, she is looking for true love and respect.
Sonny (18-30; tenor up to Bb) Young, wise, and wittily-humored cousin to Usnavi. Tough and smart Dominican with big plans for himself and his neighborhood. He is street smart, cares about his loved ones, and strives to emulate his older cousin. A comedian. Must rap well.
Abuela Claudia (50+; alto) A Cuban immigrant, Claudia and her mother came to the U.S. to find work and a better life, but only found the former. She has lived in Washington Heights the longest out of all the characters. Claudia is the beloved neighborhood matriarch, and takes care of everyone with compassion, wisdom and devotion. Raised Usnavi, though not his blood grandmother.
Daniela (35+; alto, moves well) Daniela is the Puerto Rican owner of the neighborhood salon. Loves a good "chisme" (gossip). Savvy to say the least, she is quick witted, brassy and outspoken. She knows everything that is going on in the Barrio. Her tough-as-painted-nails exterior disguises the generous spirit revealed in her support of others.
Carla (18-30; strong belt up to D5; moves well) The bubbly, funny, sidekick and best friend to Daniela. Devoutly religious, she is upbeat, sweet, and innocent. The supportive friend of the salon trio, frequently plays into being "air headed." A comedienne, she's of Dominican, Cuban, Chilean and Puerto Rican heritage.
Graffiti Pete (18-30, any vocal range) Young and slick Latinx graffiti artist of the neighborhood and the nemesis of Usnavi. Has a good heart. He views his work as art and wants to make a difference, while making a living. Good dance skills (hip hop and breakdancing). Must rap well.
Piragüero (Piragua Guy) (Any age; tenor) The town crier. Selling shaved ice from a cart, his soaring tenor voice and daily grind reflect the daily lives of the neighborhood who "keep scraping by." Latinx, charismatic and pivotal to the plot. Good sense of humor and a great sense of self pride. Scrapes piraguas from his block of ice.
Ensemble (Various ages, multiethnic) Interesting and diverse people of the community of all physical types. This "chorus" of residents have stories of their own and great pride for their ancestors.
The Sound of Music - Cast
All roles are open;
diverse candidates of all ethnic backgrounds are encouraged to audition.
Maria Rainer (20-35; soprano/musical theater mix; moves well) A young postulant at Nonnberg Abbey. Spirited, passionate and charming, though occasionally filled with self doubt. Determined, yet caring and kind.
Captain von Trapp (35-60; baritone) A retired Austrian naval captain. Polished, yet very military in the way he runs his life to repress his sadness over the death of his wife; underneath, he is warm, understanding, and determined.
Max Detweiler (35-60; tenor/baritone) Charming and vital; a man of sophistication who enjoys the good life; true and loyal friend to the von Trapp family. Witty and clever impresario who can be charmingly pushy when pursuing what he wants; strong character actor with good sense of comedy.
Elsa Schrader (30-50; mezzo-soprano) A baroness of taste and elegance, sophisticated, dignified and mature. A wealthy widow, she is charming and clever.
Mother Abbess (40+; legit soprano, wide vocal range) Very strong actor. 
Motherly, understanding, strong and authoritative, but kind.
Featured roles:

Sister Berthe (Any age, alto, moves well)
 Mistress of Novices, prudish, straight laced with a quick tongue, she is less tolerant than other nuns.
Sister Marguerite (Any age, mezzo, moves well) 
Mistress of Postulants, very kind, understanding and concerned.
Sister Sophia (Any age, soprano, moves well) 
Neither demanding nor critical, sticks with the rules.
Franz (30+, non-singing)
 The von Trapp butler, rather formal but not without spirit, he is very German and loyal to the Fascist cause.
Frau Schmidt (30+, non-singing)
 The housekeeper, stoic, very little personality; she does her job efficiently but without affection. Strong and somewhat dominating.
Herr Zeller (40+, non-singing)
 Stern and unsmiling, a typical Nazi official whose primary concern is to see that everyone toes the line.
Rolf Gruber (17, low tenor, comfortable with dance) 
Suitor to Liesl, telegram delivery boy, later Nazi soldier. A very pleasant young man, somewhat aggressive but in a gentle way.
Ensemble: Seeking diiverse performers (ages 16 and up) of various physical types to portray Nazi soldiers, neighbors, Salzburg 
citizens, nuns, novices, postulants and contestants in the Festival Concert.
von Trapp Children

Liesl von Trapp (16-18; mezzo-soprano; comfortable with dance) Eldest of the von Trapp children; a teen on the verge of womanhood. Innocent, naïve, and initially infatuated with Rolf. She has a maternal edge to her and cares very deeply for her younger siblings.
Friedrich von Trapp (14) Unchanged voice;. Tough exterior, trying to be the 'man' of the family.
Louise von Trapp (13) Initially mischievous, she eventually softens to Maria. Rebellious attitude.
Kurt von Trapp (11) Unchanged voice; inquisitive and adorable. He longs for love and attention from his father. Boy soprano with a high G.
Brigitta von Trapp (10) Intelligent, independent, bookish, and thoughtful. She is always honest and is not afraid to speak her mind.
Marta von Trapp (plays age 7) Sweet and gentle.
Gretl von Trapp (plays age 5) Must be at least age 6 to audition; adorable and at first somewhat shy, but warms to Maria immediately.
************************************************************




July 1-16

Director & Choreographer
Matthew Farina

Musical Director
Andrew Gadwah
Music and Lyrics by Lin-Manuel Miranda
Book by Quiara Alegria Hudes
Conceived by Lin-Manuel Miranda
Matthew Farina (Director / Choreographer) is excited to mark his directorial return at Musicals at Richter with In The Heights after having previously directed/choreographed Hairspray (OnStage Critics Award for Outstanding Ensemble in a Musical) and Footloose (CT/Westchester, NY Community Theatre's Top 10 of 2016 by onstageblog categories: Musical, Direction, and Male Performance (Ren)). He has choreographed and performed in several community theaters in western Connecticut including the Warner Theatre in Torrington, Seven Angels Theatre in Waterbury, TheatreWorks New Milford, and Brookfield Theatre for the Arts. He directed award winning musicals at Immaculate High School in Danbury for the past 6 years and is proud of the recognition and accolades that the program garnered for excellence in high school theater including a Special Achievement Award for his innovative work on Pippin from The Stephen Sondheim Awards and Best Musical Awards in 2017 and 2021 from the Halo Awards. Matthew added playwright to his resume when his original immersive theater production, told exclusively through dance and movement, titled A Tale Of Woe: the story of Juliet and Romeo, was performed. He was the 2017-2018 Redding, CT Teacher of the Year where he is the Gifted and Talented instructor and it is in his school district where he most recently directed/choreographed Beauty and the Beast and an immersive Macbeth.
Andrew Gadwah (Musical Director) is the choral director at New Fairfield High School and Middle School, where he also music directs the school theater productions (recent credits include The Pajama Game, Cinderella, and The Addams Family). He has music directed and/or played keyboard for shows at a variety of school and community theaters, including Joel Barlow High School (Les Miserables, Working), Wilton High School (Newsies), and Castle Craig Players in his hometown of Meriden, CT (Cabaret, Hello Dolly!, Avenue Q). He is excited to be at the helm music directing In The Heights here at Richter, after first working working with the team here playing keyboard in the pit for last summer's Shrek! Andrew earned his undergraduate degree in music education from WCSU, and a Master's degree in choral conducting from Hartt. He currently lives in Wilton with his amazing fiancee Malene and their wonderful dog Josie.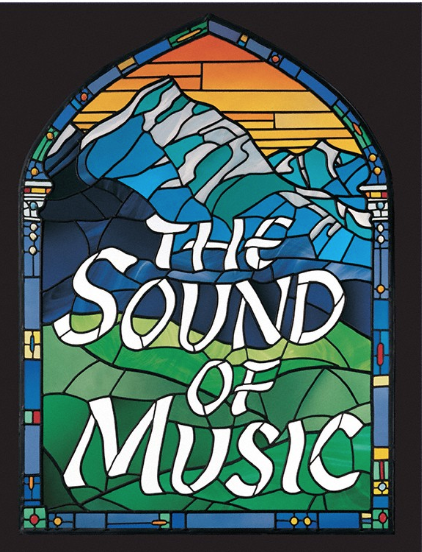 July 22 - August 6

Director
Jessica Smith

Musical Director
Adam Snyder

Choreographer
Lindsay Miller
Music by Richard Rodgers
Lyrics by Oscar Hammerstein II
Book by Howard Lindsay and Russel Crouse
Suggested by The Trapp Family Singers by Maria Augusta Trapp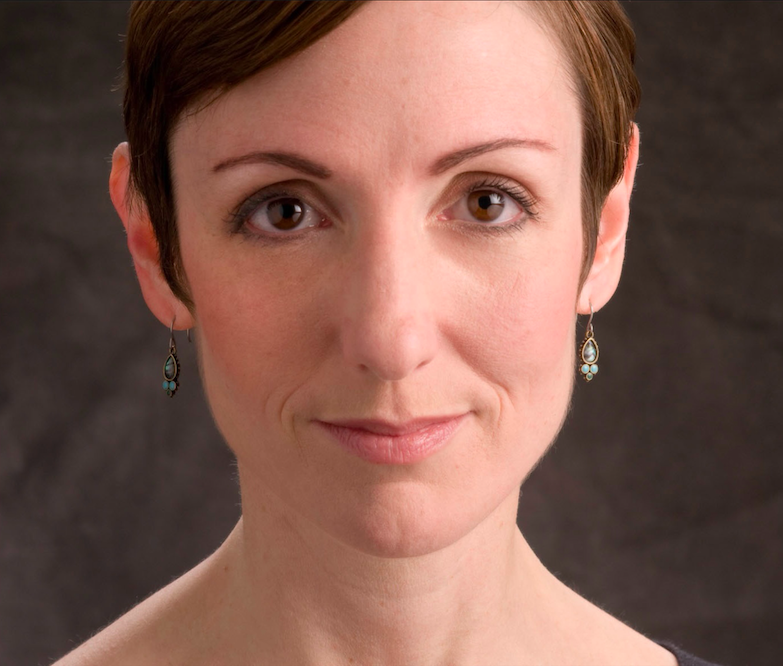 Jessica Smith (Director) is an adjunct professor of musical theater at Sacred Heart University, a graduate of the Boston Conservatory, and a theater educator and director-at-large. She has been a director, vocal director, acting and voice coach for more than 20 years in CT, NY and MA. Jessica has worked as vocal director on many productions over the years, and a few favorites are Godspell, Merrily We Roll Along, Annie, and The Mystery of Edwin Drood, among others. Directing credits include Annie, Durang Outdoors, Singing In The Rain, The Snow Queen, You're A Good Man Charlie Brown, Oliver, The Odd Couple, A New Brain, and more. For many years, Jessica offered private training, working with high school students focused on preparing for the college audition process. Jessica's performing credits have included several productions here on the Richter stage, during some of the most enjoyable and rich summers of her life (Wonderful Town, Oliver, Once Upon a Mattress, and more). She is thoroughly excited to be back for another season under the stars, directing an all-time favorite of hers, The Sound of Music.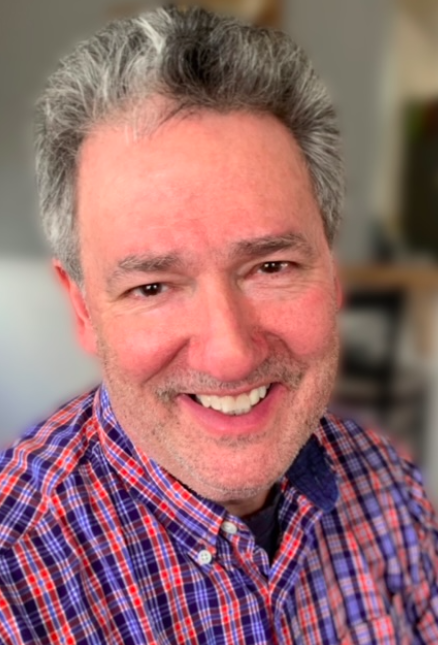 Adam Snyder (Musical Director) is very excited to be musical director for
"The Sound of Music." This is his first show for Musicals at Richter. A drummer by trade, Adam has played on Broadway, and did the first National Tour of "Movin' Out." He has also performed with many famous artists in an assortment of musical adventures. Locally, Adam has served as pianist/musical director for "American Idiot" and "Disaster" at the Brookfield Theater for the Arts and for "Pippin," "Shrek," "Seussical," and "Chicago" at several Connecticut high schools. Adam resides in Brookfield with his wife, Stacey, and their children, Miles and Allyson.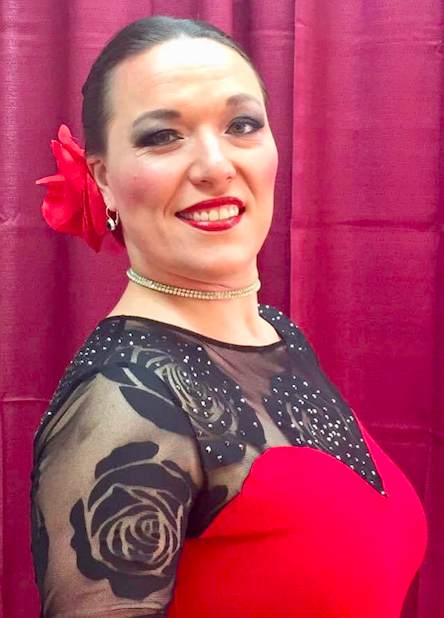 Lindsay T. Miller (Choreographer) Most recent MAR credit: choreographer for Shrek The Musical, 2019. Previous MAR shows: Carousel, Sweeney Todd, Nunsense, Brigadoon, Some Enchanted Evening, and Sweet Charity. MAR Board of Directors (Treasurer) 2012-2013. Extensive background in dance performing, teaching, and competing in ballet, tap, jazz, modern, ballroom and Latin. BA in English Lit, minor in Theatre - Binghamton University, 2006. Choreography credits: The Will Rogers Follies, Nunsense, Little Shop of Horrors, Spelling Bee (Spotlight Theater Productions), Hollywood: Big Band Style, Pride & Prejudice (County Players), Crazy For You, High School Musical, Mary Poppins, The Addams Family, Urinetown, A Year With Frog & Toad, Newsies (John Jay High School). Currently Development Coordinator for United Way of the Dutchess-Orange Region and teaching at In Motion Dance Center, LaGrangeville, NY.