Victor Victoria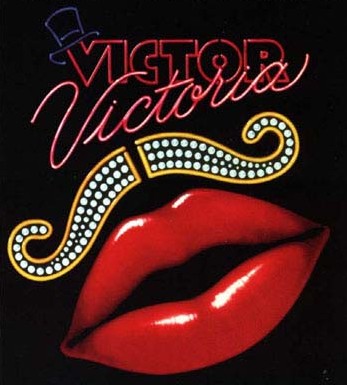 June 19, 20, 21, 22, 27, 28, 29, July 4, 5
Music by Henry Mancini
Additional Music by Frank Wildhorn
Lyrics by Leslie Bricusse
Book by Blake Edwards
Based on the 1982 Blake Edwards film

Directed and Choreographed by Donald E. Birely
Musical Direction by Stephanie Gaumer and Dan Koch
"Victor/Victoria" contains adult situations and some language that may not be suitable for all audiences
Synopsis: The place and time is Paris during the 1930s. Men who can sing as women are all the rage. Desperate for a gig, Victoria, a woman, disguises herself as a man pretending to be a woman. She is all the rage in Paris, as audiences fully believe that she is a he who is just pretending to be a she. Things get even more complicated after the gangster, King Marchan, happens upon a show with Victoria. To his dismay, King Marchan finds that he is falling in love with this man Victor. Meanwhile, King's tough bodyguard, Squash, falls in love with Victoria's truly male friend, Toddy. In the end, Victor reveals that he is really Victoria meaning that King Marchan is not homosexual, as he feared.
Distinctions: Nominated for 3 Drama Desk Awards and 1 Tony Award (Julie Andrews, Outstanding Actress in a Musical - she declined the nomination). Julie Andrews and Rachel York won the Drama Desk Awards for Outstanding Actress and Featured Actress in a Musical respectively.
Songs:
Act 1
Paris by Night ...........................................Carroll Todd and Les Boys
If I Were a Man .........................................Victoria Grant
Trust Me ..................................................Carroll Todd and Victoria Grant
Le Jazz Hot ...............................................Victor and Jazz Hot Ensemble
The Tango ................................................Victor and Norma Cassidy
Paris Makes Me Horny .................................Norma Cassidy
Crazy World ..............................................Victoria Grant
Who Can I Tell?..........................................Victoria Grant

Act 2
King's Dilemma ..........................................King Marchan
Apache ...................................................Les Boys
You & Me ................................................Carroll Todd and Victor
Paris by Night (Reprise) ..............................Street Singer
Almost a Love Song ...................................King Marchan and Victoria Grant
Chicago, Illinois .........................................Norma Cassidy and Norma's Girl
Living in the Shadows
(Music By Frank Wildhorn)............................Victoria Grant
Victor / Victoria .........................................Victoria Grant, Carroll Todd and Company
Photos by David Henningsen

FULL SYNOPSIS (from Musical Heaven.com)
ACT I
Carroll Todd ("Toddy" to his friends) is tenuously employed as the resident performer at Edith Labisse's Left Bank gay club, Chez Lui. Toddy and Les Boys entertain the small but appreciative audience -Paris By Night. Toddy insults a group of customers which includes his ex-boyfriend Richard. Labisse threatens to fire him.
A penniless English soprano, Victoria Grant, auditions unsuccessfully for Labisse. Toddy tries to help, but Labisse rejects her and fires him. Toddy befriends Victoria, and offers her shelter from the wet wintry night in his tiny apartment. They become instant buddies and confidantes. Toddy wishes he were a woman, like Victoria, while Victoria believes that there are far more advantages to being a man -If I Were A Man.
Richard, the ex-boyfriend, arrives at Toddy's unexpectedly to collect his things. Victoria is by now wearing his hat and pajamas. Richard mistakenly thinks she is Toddy's new boyfriend and insults Toddy. Victoria punches Richard and kicks him out. Toddy is impressed. Richard actually thought Victoria was a man! And at that moment The Inspired Idea strikes Toddy right between the eyes. Why not? Victoria could indeed be a man - Europe's greatest female impersonator! Victoria says he's crazy. Toddy pursues his argument, and dreams up Count Victor Grazinsky - a gay Polish aristocrat and Toddy's new lover -Trust Me. "It will work," he assures Victoria. "It will not!" says Victoria. They'll never accept a woman pretending to be a man pretending to be a woman! - "They'll know he's a phony!" "Exactly," says Toddy. "They'll know he's a phony!"
Toddy drags the reluctant Victoria to meet Andre Cassell, Paris's leading impresario, who is dubious about "Count Victor Grazinsky" until he hears "him" hit a glass-shattering high G-flat. "Victor" is in business.

Le Jazz Hot! introduces Victor to Paris café society. His show-stopping performance at once makes him the toast of Gay Paree. The only doubter of Victor's authenticity is a dashing American business-man - cum gangster figure, King Marchan, visiting Paris with his brassy girlfriend Norma and his loyal bodyguard Squash. King is convinced Victor is a woman, and determined to prove it. At Cassell's opening night party for Victor, King invites Victor to tango with Norma, hoping to prove his point -The "Paris By Night" Tango. Victor's tango is a sensation. Norma is thrilled. King is thwarted, and starts to doubt himself. He finds Victor attractive as a woman...but what if he's a man?
By an unwelcome coincidence, King and Norma and Squash find themselves in the adjoining hotel suite to the newly successful Toddy and Victor. Norma tries to seduce King -Paris Makes Me Horny. She succeeds only in making him impotent. Next door, Victoria bemoans to Toddy that in King she thinks she has finally found the man of her dreams, but here she is trying to convince him that she is a man, too! - Who Can I Tell?
ACT II
Victor continues to take Paris audiences by storm. Norma complains to Victor and Toddy that King is shipping her back to Chicago because he fancies Victor - a man!
King confronts his doubts about himself and Victor -King's Dilemma. Is it possible that he, King, is falling for a man? He invites Victor and Toddy to dinner to try and find out. After dinner they visit Chez Lui, where Labisse also has her suspicions that Victor is a woman. She invites her/him to sing. Victor and Toddy oblige -You and Me.
Richard's group arrives noisily in mid-song. Victor trips Richard and starts a major brawl in the club. The police arrive to break it up. Outside the club, King says he doesn't care if Victor is a man, and kisses him. Victoria admits she's not a man. King says he still doesn't care, and kisses her again -Reprise: Paris By Night.
Back in the hotel, Squash barges into King's bedroom and finds King and Victor in bed together: He apologizes profusely: "Sorry, guys!" King tries to explain. Squash admires King for coming out of the closet, and stuns his boss by revealing that he, too, is gay!
Victor and King examine their potential problems if they are perceived publicly as two men. It won't work. -Almost a Love Song
Back in Chicago, Norma is performing in a night club -Chicago, Illinois. She informs King's gangster partner, Sal Andretti, that King has dumped her for another man - and is living with "a gay Polish fairy." Sal is aghast, and says they're all going to Europe.
Two weeks later, Toddy and Squash have become happy partners. Not so for King and Victoria, unable to be seen together in public -Living in the Shadows. Victoria tells Toddy she doesn't want to be a man anymore. Toddy understands. Neither does he.
Sal and the spurned Norma arrive in Paris. King admits he loves "Victor," keeping the secret. Sal, disgusted, ends their business relationship. Victoria reveals herself to Norma as a woman. Norma is horrified. Labisse witnesses this moment of naked truth. Victoria is horrified. Toddy tells her not to worry. "Trust me!" Dissolve to Victor's farewell appearance -Victor/Victoria. Labisse tries to expose him/her as a fraud.
Toddy, thrilled to be back in drag, replaces Victoria in a blink, to thwart Labisse and leave the way clear for a happy ending for our two loving couples -King and Victoria, and Toddy and Squash.
--Leslie Bricusse
Cast:
Victor/Victoria Grant: Juliette Garrison (Millbrook, NY)

Carroll Todd ("Toddy"): Al Recchia (Milford)

King Marchan: Matt Criscuolo (Wilton)

Norma Cassidy: Renee Kaminsky (Wilton)

Squash Bernstein: Tom Morris (Danbury)

Andre Cassell: Joseph P. Hudson (Danbury)

Edith Labisse: Elyse Jasensky (Danbury)

Richard DiNardo: Rob Sniffin (Danbury)

Sal Andretti: Ronnie Blois (Sherman)

Jazz Singer/Miss Selmer: Karen Samuel (Danbury)

Jazz Singer/Juke: Mensah Robinson (Danbury)

Simone Kallisto: Amanda Blois (Sherman)

Georgette/Louis: Janice Gabriel (Brewster, NY)

Cosmetics President's Husband: Mike Lozier (New Milford)

Cosmetics President: Meredith Walker (Wilton)

Chambermaid/Ensemble: Dr. Barbara Kessler (Danbury)

Dancer/Dance Captain: Amanda Eventoff (Newtown)

Dancer/Ensemble: Hilary Currie (New Milford), Caitlin Keeler (Ridgefield), Charity Ferris, Monica Gallagher, Melanie Romano (all of Danbury)

Waiter: Luke Garrison (Millbrook, NY)
ABOUT MUSICALS AT RICHTER'S PRODUCTION:
Le Jazz Hot!
Danbury 's Musicals at Richter Opens 24th Season Under the Stars June 19 with Sizzling Musical Comedy Hit "Victor/Victoria"
Danbury, Conn. – Musicals at Richter (MAR), celebrating its 24th season as the longest-running outdoor theater in Connecticut, opens the 2008 season with the hilarious musical adaptation of the gender-bending hit film comedy "Victor/Victoria" on June 19. Staged on the grounds of the Richter Arts Center in Danbury , performances take place outdoors under the stars Friday through Sunday evenings through July 5 at 8:30 p.m., with a specially discounted preview the first Thursday of the run, June 19.
Adapted by Blake Edwards for the stage from his 1982 hit film of the same name, "Victor/Victoria" follows the fortunes of Victoria Grant, a poverty-stricken soprano trying to find work in Paris in the 1930s. With the help of Carroll ("Toddy") Todd, a worldly-wise gay nightclub singer, she invents her alter-ego Victor, a female impersonator who is hired to sing at a fashionable night spot. As she negotiates the challenges "being a woman pretending to be a man pretending to be a woman," Victoria becomes the toast of Paris . Comic complications arise when King Marchan, a Chicago mobster, sees the act and finds himself attracted to the enigmatic star. As the play unfolds, we discover that not everyone is exactly what they appear to be in this wonderfully raucous battle of the sexes!
The wildly popular movie featured Julie Andrews in the title role, with Robert Preston as the effervescent Toddy, James Garner as King Marchan, Leslie Ann Warren as Marchan's brassy girlfriend Norma Cassidy and Alex Karras as Squash Bernstein, Marchan's fiercely loyal bodyguard.
With an expanded score by Henry Mancini and Frank Wildhorn and lyrics by Leslie Bricusse, the 1995 Broadway production was directed by Edwards and choreographed by Rob Marshall. It opened on October 25, 1995 at the Marquis Theatre, where it ran for 734 performances. The original cast included Julie Andrews (reprising her role in the film), Tony Roberts, Michael Nouri, Rachel York, Richard B. Shull, and Rob Ashford. Songs from the score include "Le Jazz Hot," "Trust Me," "Living in the Shadows," "You and Me," and "Paris by Night."
Directed and choreographed by Musicals at Richter veteran Donald Birely of New York City , the Richter production features MAR veterans Juliette Garrison of Millbrook , NY as Victoria and Al Recchia of Milford as Carroll Todd. Ms. Garrison has many leading roles to her credit, including Sheila in "A Chorus Line" at the Warner Theatre in Torrington; Lucy in "Jekyll and Hyde" at Thomaston Opera House; Meredith Parker in "Batboy" and Velma Kelly in "Chicago" at Theatreworks New Milford; and Sally Bowles in "Cabaret" at the Warner Studio Theatre. She played opposite Robert Cuccioli in the workshop for the new musical "Elvis Unbound" in New York City . A sampling of her ten shows at MAR includes Adelaide in "Guys and Dolls," Lily St. Regis in "Annie," Elsa in "The Sound of Music."
A Milford native, Mr. Recchia last appeared on the MAR stage as Julian Marsh in " 42nd Street ." His other Richter roles include the title role in "Barnum" and Marcus Lycus in "A Funny Thing Happened on the Way to the Forum." His favorite credits include Lenny in "Rumors," Charles Condomine in "Blythe Spirit," Sylvia St. Croix in "Ruthless," Noble Eggleston in "Little Me," and Dr. Morris Ritz in "The Grass Harp," for which he won Stratford 's Square One Theatre Subscribers' Award for Outstanding Featured Actor.
Wilton residents Matt Criscuolo and Renee Kaminsky are appearing at Richter for the first time as King Marchan and Norma Cassidy. A professional saxophonist with two CDs to his credit, Criscuolo is also the owner of Wilton Pizza, Piccolo's Pizza and Toozypatza Pizza restaurants. Kaminsky has performed in New York City at the Triad Theater, Henry Dejur Playhouse, Producers Club, The Tank and in the NYC Fringe Festival. She toured with American Family Theatre in "Beauty and the Beast," and worked on "Between the Lines" for A & E. Her local credits include "Guys and Dolls" and "Thoroughly Modern Millie" at Curtain Call's Kweskin Theater in Stamford .
Tom Morris of Danbury takes on the role of Squash Bernstein and Elyse Jasensky of Danbury is featured as nightclub owner Edith Labisse. Morris is making his MAR stage debut, having previously served as conductor and keyboardist for several past MAR productions, including " Oklahoma !" and "The King and I." He is principal timpanist for the Danbury Symphony and a regular accompanist for the Spinning Wheel Inn's annual Christmas Show. An educator at Maimonides Academy, Jasensky is an established area performer, with credits ranging from Rose in "Gypsy" and Mrs. Hannigan in "Annie" at MAR, to Joanne in "Company" at Ridgefield Theater Barn and Miss Pennywise in "Urinetown" for Theatreworks New Milford.
Danbury resident Joseph P. Hudson makes his Richter debut as Paris impresario Andre Casell. Hudson is well-known to area audiences as the director of Danbury 's Mad Hatters Barber Shop Chorus and the choral director at Danbury High School . A native of Stratford , Hudson counts among his favorite roles Moonface Martin in "Anything Goes," Sir Joseph Porter in HMS Pinafore and the title role in "You're a Good Man, Charlie Brown."
Joining Hudson are Richter veterans Rob Sniffin of Danbury in the role of Richard DiNardo, Toddy's ex-lover, and Ronnie Blois of Sherman as Sal Andretti, King Marchan's business partner from Chicago . Sniffin was featured as Perchik in last season's "Fiddler on the Roof," and Blois appeared in the ensembles of both "Fiddler" and " Oklahoma !"
The balance of the 23-member cast is featured in a variety of roles. They include Charity Ferris, Monica Gallagher, Barbara Kessler, Mensah Robinson, Melanie Romano, and Karen Samuel, all of Danbury; Hilary Currie and Mike Lozier of New Milford; Amanda Eventoff of Newtown; Caitlin Keeler of Ridgefield; Amanda Blois of Sherman; and Meredith Walker of Wilton. New York cast members include Janice Gabriel of Brewster and Luke Garrison of Millbrook.
Stephanie Gaumer-Klein of Norwalk and Dan Koch of Millbrook , NY serve as musical directors for the production. Scenic design is by Andy Salom of Danbury , with lighting design by Jeff Klein of Norwalk and costumes by Donald Birely. Danbury residents Charity Ferris and Joyce Northrop serve as production stage manager and producer respectively.
Musicals at Richter's 2008 main stage musical season continues with "Wonderful Town" (July 10-26), Leonard Bernstein, Betty Comden and Adolph Green's quirky and comic musical about two sisters starting life in New York City, directed by E. Kyle Minor of Danbury; and "The Music Man" (July 31 – August 16), Meredith Willson's pitch-perfect musical tribute to small-town Iowa, directed by Donald Birely.
For the younger set, the popular children's theater series "Fairy Tale Theater" celebrates its tenth season of Saturday morning offerings July 5 through 26 at Wooster School in Danbury . Longtime Danbury area performer and educator Elyse Jasensky directs a 20-member ensemble of young performers in hour-long versions of classic tales such as "Jack and the Beanstalk" (July 5), "The Frog Princess" (July 12), "The Princess and The Pea" and "Puss in Boots" (July 19) and "Alice in Wonderland" (July 26). All Fairy Tale Theater tickets are $5.
Main stage performances are Friday through Sunday evenings at the Richter Arts Center (next to the Richter Park Golf Course, I-84, Exit 2), 100 Aunt Hack Road, in Danbury. Tickets for the main stage productions are $21 for adults, $16 for seniors, and $13 for students and children, which includes $1 for the Richter House Restoration Fund. Preview performances (June 19, July 10 and July 31) are $10 for all tickets. Ticket reservations are available by phone and through the Musicals at Richter website. Grounds open at 7:15 p.m. for picnicking, with curtain at 8:30 p.m. Group rates are available with advance reservation; chair rentals and soft drink/snack concessions are available on-site.