Rising Stars
2007 Season
Who are Richter Rising Stars?
Richter Rising Stars is a select group of young musical theater performers who will perform prior to Richter's main stage musicals and at various venues in the Danbury area. RRS is directed and choreographed by Alicia Dempster with musical direction provided by Joanne Archibald.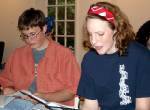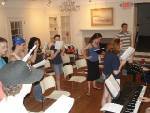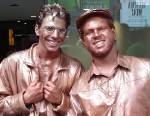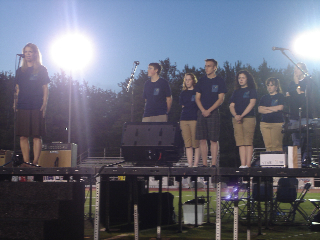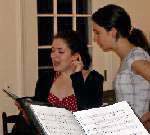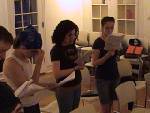 What does the 2007 RSS Repertoire include?
In cooperation with ASCAP and BMI, Richter Rising Stars will be performing age-appropriate selections from contemporary musical theater. All selections to be performed in 2007 have the distinction of being from musicals that premiered on Broadway after Musicals at Richter opened its lawn in 1985.
- "Light in the Piazza" from Light in the Piazza - "Waitin' For The Light To Shine" from Big River - "Lay Down Your Head" from Violet - "Skid Row (Downtown)" from Little Shop of Horrors

- "Mama I'm A Big Girl Now" from Hairspray
- "The I Love You Song" from 25th Annual Putnam County Spelling Bee
- "Big News" from Parade
- "Written In The Stars" from Aida

- "We're All In This Together" from High School Musical
MEDLIES:
- WICKED – No One Mourns the Wicked, The Wizard and I, One Short Day, For Good, Defying Gravity, Finale

- MAMMA MIA – I Have A Dream, Mamma Mia, SOS, Take A Chance On Me, Thank You For The Music, Dancing Queen, Waterloo

- RENT – Rent, One Song Glory, Without You, Santa Fe, La Vie Boheme, Will I?, Seasons of Love, Finale

- JERSEY BOYS – Can't Take My Eyes Off Of You, December 1963, Let's Hang On, Stay, Who Loves You, Working My Way Back To You

- An American Tribute – America The Beautiful, America, Battle Hymn of the Republic
** NOTE: Repertoire is subject to change
~STARS IN THE COMMUNITY~Richter Rising Stars at CityCenter Danbury July 12
PERFORMANCE DATES:At Musicals at Richter:Pre-show performances (8 p.m.) August 5 & 12 before "Oklahoma!"Full Performances: Tuesdays, August 7 & 14 at 7:00 p.m. (Tickets $10 - proceeds benefit Musicals at Richter and Broadway Cares/Equity Fights AIDS)For further information on BC/EFA, click hereIn the Community:Danbury Festival on the Green Thursday, July 12 @ 6 p.m.Special Activities June 15 - Ridgefield Relay for Life