Phantom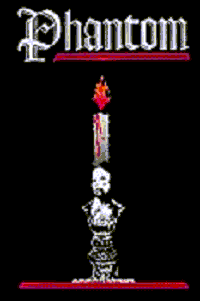 Music and Lyrics by Maury Yeston
Book by Arthur Kopit, Original novel by Gaston Leroux

July 7,8,9,10,15,16,17,22,23

Synopsis:
Gaston Leroux's story of a disfigured musical genius who haunts the catacombs beneath the Paris Opera. One critic has observed: "This mesmerizing "Phantom" is traditional musical theatre in the finest sense. The Tony Award-winning authors of "Nine" have transformed Gaston Leroux' The Phantom of the Opera into a sensation that enraptures audiences and critics with beautiful songs and an expertly crafted book. It is constructed around characters more richly developed than in any other version, including the original novel."
Other Reviews
"Everything is first rate."-- N.Y. Daily News
"Rhapsodic music that entrances, moves and haunts.... A welcome link to musical theatre's golden past."-- N.Y. Times
"Has glory all its own."-- Boston Globe
"Phantom's love story-- and the passionately soaring music it prompts ... jerk enough tears to fill that Paris Opera Lagoon."-- San Diego Union.
"A rich, ripe, rewarding evening."-- Chicago Tribune
"One of those musicals you thought they just didn't write anymore."-- Chicago Sun Times
"Music that can break your heart.... This is a score in the grand manner."-- Gannett Newspapers
"One of the most appealing America musicals of recent years."-- Dallas Morning News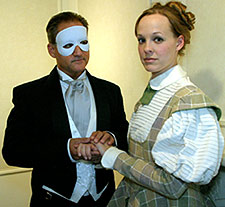 Photos by Kerry Long
KerryLongPhoto@hotmail.com

Original Production:
Produced by Heidi Landesman, Rocco Landesman, Rick Steiner, M. Anthony Fisher, Frederic Mayerson, Jujamcyn Theatres

Directed by James Lapine
November 5, 1987 at the Martin Beck Theatre and ran for 764 performances.

Original Cast included: Jack Dabdoub, Paul Schoeffler, Meg Bussert, Richard White, Glory Crampton, Lyle Garrett, Allen Kendall, James van Treuren
Song List

Overture Melodie De Paris Paris Is A Tomb Dressing For The Night Where In The World This Place Is Mine Home Music Lessons, The / Phantom Fugue
You Are Music

Bistro, The Who Could Ever Have Dreamed Up You Entr'acte Without Your Music My True Love My Mother Bore Me You Are My Own
Finale: Your Are Music - (Reprise)
Subscribe to our newsletter!
* required
Email & Social Media Marketing by VerticalResponse