Oklahoma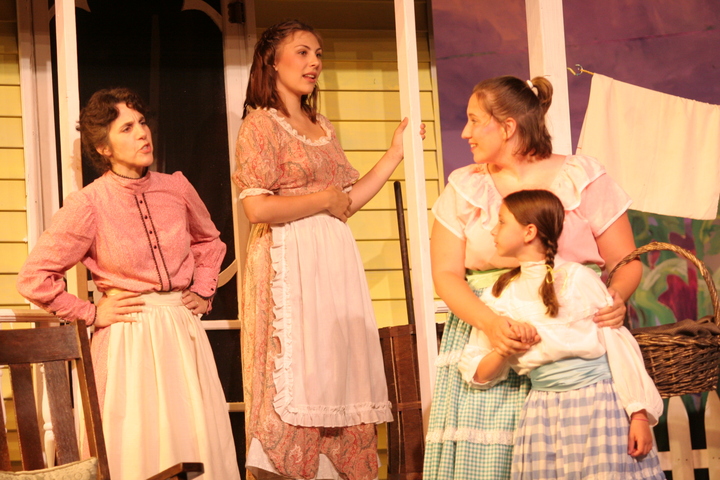 Beth Bria as Aunt Eller and Lucy Horton as Laurey, with Janice Gabriel and Jessica Schwartz
Nicholas Kier as Will Parker with company in "Kansas City" --Kerry Long Photo

August 2-18Music by Richard Rodgers

Book & Lyrics by Oscar Hammerstein II

Directed by Donald Birely
Choreographed by Matt Farina
Musical Direction by Jane Ryan
Costumes by Aurora Greaves/Warner Stage Company
Scenic Design by Christopher Gladysz
Scenic Painting by Rick Doyle
Lighting Design by Jeff Klein
Production Stage Manager Emily Jayko

The Young 'Uns in the Territory!
REVIEW:
Richter ends season with 'Oklahoma!' Danbury News Times - August 10, 2007
By Chesley Plemmons
THEATER CRITIC
As the days of summer grow fewer, so too do the opportunities to enjoy theater under the stars at Danbury's outdoor Musicals at Richter. The season finale, which only runs through next weekend, is "Oklahoma!" the Rodgers and Hammerstein classic from 1943, and the Richter production is happily first rate in all departments.Richter may have found in director Don Birely a remedy for some of the energetic, yet hastily put together and thus sometimes less than sharp productions of the past. Birely directed "Fiddler on the Roof," the rousing season opener, and with this production of "Oklahoma!" demonstrates again what diligent casting and a strong directorial hand can accomplish.This is a well-sung, well-acted production and one which needs no generous caveats to defend it on the grounds that outdoor theater is not expected to match rainproof productions."Oklahoma!" is an evergreen musical just waiting for a cast that can breathe new and believable life into its characters -- and with a score with enough hit parade songs to warrant a juke box of its own, it just needs a professional push to dust off what few signs of aging it might be victim to.Birely has cast attractive performers, vocally and physically, in the principal roles. Lucy Horton and Matt Grills play the young lovers, Laurey and Curley; Bridget Krompinger is the fickle Ado Annie; Nicholas Kier and Damian Long are her addled swains and Beth Bria is Laurey's Aunt Eller. For the dark role of Jud, the director has selected strong singer Bryan Prywes and what an apt decision it was to have this character played by someone who looks the age of Laurey and Curley, with whom he is fatefully entwined. Too often Jud comes off as an embittered older man rather than a young one -- alienated and lonely in a country where companionship was probably as scarce as rain for the crops.While many in the audience will know most of the songs, what a joy it must be for newcomers to the show to discover the velvety collaboration between Rodgers and Hammerstein. "Oh, What a Beautiful Mornin!""People Will Say We're in Love" and "The Surrey With the Fringe on the Top" are among favorites the show spawned, but listen anew to the clever lyrics and musical counterpoint in "Everything's Up to Date in Kansas City,""Many a New Day" and the mock requiem, "Pore Jud is Daid."There's a large cast and Birely and choreographer Matt Farina keep them on the move, dancing and prancing to steps that give an affectionate nod to the original choreographer, Agnes de Mille.Aurora Greaves of the Warner Theatre in Torrington has supervised the Sunday-go-to-meeting costumes, which naturally feature plenty of gingham and prints for the ladies and chaps and jeans for the cowboys and the farmers.Birely designed the set as he did for "Fiddler" and once again note should be made of the work of the scenic painter, in this case Rick Doyle, whose panoramic visions are bright and beautiful.Jane Ryan was the musical director and she kept the singers and the orchestra in perfect alignment.On the surface, "Oklahoma!" is about optimism and unity -- the title song and the peace making "The Farmer and the Cowman (Should Be Friends)" demonstrate emotions in high demand in the war years of the mid 1940s when the show was written.It still has the power to give you a sense of the "Sooner" get up and go spirit, and the music will get your toes to tapping and your hands to clapping. Take the family, it's a great introduction to musical theater and a not unwelcome dose of American pride."Oklahoma!" plays through Aug. 18 at Musicals at Richter, Richter Arts Center, 100 Aunt Hack Road, next to the Richter Golf Course, Danbury. Performances are Thursdays through Sundays at 8:30 p.m. Grounds open at 7:15 for picnicking. There is a concession stand on the site and lawn chairs may be rented with advance reservations.Tickets are $20, $15 for seniors and $12 for students and children. Call the box office at (203) 748-6873. For more information visit the theater's Web site, www.musicalsatrichter.org.

Pictured clockwise from left: Bryan Prywes as Jud; Damian Long as Ali Hakim with Bridget Krompinger as Ado Annie; and the Company in "The Farmer and the Cowman." Inset above right: Bridget Krompinger as Ado Annie with Nicholas Kier as Will Parker.Production photos by Kerry Long PhotographyREVIEW: OKLAHOMA! Joanne Rochman, Hometown Newspapers - August 9,2007They say the first number in a musical determines the way the show will go. Well, wait until you hear Matthew Grills sing "Oh, What a Beautiful Mornin'" while he strolls down a grassy aisle and makes his way through the audience to the outdoor Richter stage. He sets the pace for the whole show, and this production of "Oklahoma" never falters.An old chestnut of a musical, this work is new again with a young, enthusiastic and talented cast. Lucy Horton hits the high notes crisply and cleanly, and she presents a sweet country girl with as much spunk as morals.Of course, Bridget Krompinger is a hoot as Ado Annie, the gal who just can't say "no." She's at her best when her crinolines are ruffled in the air as she's dancing with Nicholas Kier, a high-kicking, quick-footed Will Parker.Damien Long as Ali Hakim, a traveling salesman who can't leave the women alone, cracks up the audience every time he finds himself looking down the barrel of a shotgun.Beth Bria, a charmer in her own right, plays Aunt Eller with equal amounts of gusto and charm.While the entire cast captivates the audience with indefatigable energy and thrilling talents, it is Bryan Prywes who will steal your heart. His character, Jud Fry, is supposed to be dark, and Prywes portrays him as that, but he gives "Pore Ol' Jud" a heart. He's not just a cardboard figure. The audience cares about this character. Kudos to Prywes for taking on such a heavy role with such passion and professionalism. He delivers one of the most memorable performances of the evening.Choreographed by Matthew Farina, the dancing is joyous. Girls in pastel, candy-colored dresses with plenty of ruffles, ribbons and bows kick up their pretty heels and are twirled about by cowboys who know a thing or two about dance.Directed superbly by Donald E. Birely, with musical direction by Jane Ryan, this is a big winner for Richter's final production of the season. If you can't resist a good, old-fashioned, romantic musical with songs like "The Surrey With the Fringe on the Top," "People Will Say We're In Love," and "Oklahoma," then you better contact the Richter box office: (203) 748-6873.The show runs through Aug. 18.

Song List
About:
Oklahoma! (1943) was the first musical play written by composer Richard Rodgers and lyricist/librettist Oscar Hammerstein II (see Rodgers and Hammerstein). Some argue that it marked a revolution in musical drama: while it was hardly the first time a play with music told a story of emotional depth and psychological complexity, Oklahoma! implemented a number of new storytelling techniques, including focusing on emotional empathy; dealing with characters and situations far removed from the audience by time and geography; dealing with American historical and social materials; and its use of dance to convey plot and character rather than mere diversion for the audience. Story:Oklahoma!, which is based on Lynn Riggs's 1931 play, Green Grow the Lilacs, is set in Oklahoma Territory outside the town of Claremore in 1906, and tells the story of cowboy Curly McLain and his romance with farmer girl Laurey Williams. Their love is challenged by Laurey's threatening farmhand, Jud Fry, and much of the play follows the contest between Curly and Jud for Laurey's affections. A comic subplot follows Laurey's friend, Ado Annie Carnes and her on-again/off-again relationship with cowboy Will Parker.
Stage play:The original production of Oklahoma! opened on March 31, 1943 at the St. James Theatre in New York, was directed by Rouben Mamoulian, and starred Betty Garde, Alfred Drake, Joan Roberts, Celeste Holm, Joan McCracken, and Howard Da Silva. The production was choreographed by Agnes de Mille, who provided one of the show's most notable and enduring features: a 15-minute first-act ballet finale (often referred to as a dream ballet) arising from Laurey's inability to make up her mind between Jud and Curly. The original production ran for a then unprecedented 2,212 performances and was closed on May 29, 1948. There have been many revivals of Oklahoma! since, including national tours.Movie:The play was adapted into an Academy Award–winning musical film in 1955, starring Gordon MacRae, Shirley Jones (in her film debut), Rod Steiger, Gloria Grahame and Eddie Albert. This film was shot with two sets of cameras, in the new 70 mm widescreen process of Todd-AO and again in the more established Cinemascope 35 mm widescreen process for the majority of theatres lacking 70 mm equipment. Rodgers and Hammerstein personally oversaw the film themselves to prevent the studio from making the changes that were then typical of stage-to-film musical adaptations—such as putting in new songs by different composers. (They also maintained artistic control over the film versions of several of their other stage musicals). The film Oklahoma! followed the original stage version extremely closely, more so than any other Rodgers and Hammerstein stage-to-film adaptation. Robert Russell Bennett expanded his Broadway orchestrations, Jay Blackton conducted, and Agnes de Mille again choreographed. The film omitted very little from the stage production, and thus ran two-and-a-half hours, much longer than most other screen musicals of the time. The movie of Oklahoma! revived an early talkie trend which had not lasted long—filming stage musicals virtually complete, and showing them as road show attractions (two performances a day, usually with an intermission, like stage productions). Although the film versions of Rodgers and Hammerstein's Carousel and The King and I did not have intermissions and cut more from the stage originals than did the film version of Oklahoma!, they also ran over two hours, followed the stage originals quite closely and retained most of their songs. South Pacific (filmed in 1958), as well as most other stage-to-film musical adaptations that came after it, did have an intermission and was also quite long, as was The Sound of Music. The trend of "road show" stage-to-film musicals lasted into the early 1970's, the last of them being the film versions of Fiddler on the Roof and Man of La Mancha.
Cultural References:
• The title song became the official state song of Oklahoma in 1953.

Learn more about Oklahoma's centennial celebration: http://www.oklahomacentennial.com/

The Company of "Oklahoma!" --Peter Lerman Photo
Cast:
Aunt Eller.............Beth Bria
Curly.................... Matt Grills
Laurey................. Lucy Horton
Jud Fry................ Bryan Prywes
Will Parker.......... Nick Kier
Ado Annie.......... Bridget Krompinger
Gertie Cummings... Tara Gruszkiewicz
Cord Elam.......... Carl LePere
Ali Hakim............ Damian Long
Andrew Carnes... Ted Schwartz
Ike Skidmore...... Matt Sumski

Female Ensemble..... Julia Benivegna
Female Ensemble..... Hilary Currie
Female Ensemble..... Amanda Eventoff
Female Ensemble..... Charity Ferris
Female Ensemble..... Janice Gabriel
Female Ensemble..... Caitlin Keeler
Female Ensemble..... Karissa Raymond
Female Ensemble..... Kelly Reagan
Female Ensemble.... Melanie Romano
Female Ensemble.... Sharon Suchecki

Male Ensemble........ Adrian Appleman
Male Ensemble........ Ron Blois
Male Ensemble........ Sammy Panzarino
Male Ensemble....... Stephen Papallo

Children Ensemble......Brandon George
Children Ensemble......Caitlyn Lalli
Children Ensemble..... Deanna Lasco
Children Ensemble..... Trevor Lovitz
Children Ensemble..... Brooke Morris
Children Ensemble..... Kyrianna Raymond
Children Ensemble..... Marley Roche
Children Ensemble .....Siobahn Ryan
Children Ensemble......Rachel Salvador
Children Ensemble......Jessica Schwartz