Nunsense: The Megamusical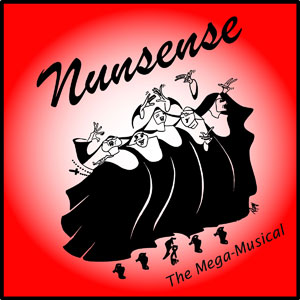 Book, Lyrics and Music by Dan Goggin
June 14-30
Co-directed and staged by Christopher Gladysz and Donald E. Birely
Musical Direction by Dan Koch
HISTORY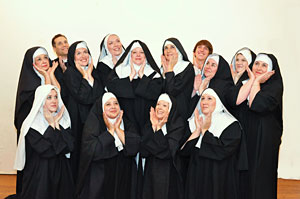 The Nunsense concept originated as a line of greeting cards featuring a nun offering tart quips with a clerical slant. The cards caught on so quickly that Goggin decided to expand the concept into a cabaret show called The Nunsense Story, which opened for a four-day run at Manhattan's Duplex and remained for 38 weeks, encouraging its creator to expand it into a full-length theater production.
The original production of Nunsense, directed by Goggin, opened on December 12, 1985 at the off-Broadway Cherry Lane Theatre, moving to the Douglas Fairbanks Theater for the majority of its ten year run. It ran for 3,672 performances, becoming the second-longest running off-Broadway show in history (after The Fantasticks). By the time it closed, it had become an international phenomenon translated into at least 26 languages with more than 8,000 productions worldwide. It has grossed over $500 million worldwide, and more than 25,000 women have played in Nunsense productions worldwide, including Edie Adams, Maxine Audley, Kaye Ballard, Honor Blackman, Pat Carroll, Peggy Cass, Phyllis Diller, Sally Struthers, Louise Gold, Maggie Fitzhugh and JoAnne Worley.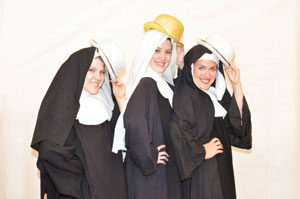 The five-woman production won four Outer Critics Circle Awards, including best off-Broadway musical, best book and best music. A 1985 London cast recording was made, as well as a 1986 recording with the off-Broadway cast. The show opened on London's West End at the Fortune Theatre in March 1987.
Goggin adapted both Nunsense and Nunsense 2 for television productions with Rue McClanahan as the Mother Superior. Also starring in this version were Terri White as Sister Mary Hubert, Semina DeLaurentis as Sister Mary Amnesia, Christine Anderson as Sister Robert Anne and Christine Toy as Sister Mary Leo. The show and its sequels are popular choices of community theatre and summer stock troupes. In 2004, the "20th Anniversary All-Star Tour" of the show starred Kaye Ballard as Sister Mary Regina, Georgia Engel as Sister Mary Leo, Mimi Hines as Sister Mary Amnesia, Darlene Love as Sister Mary Hubert, and Lee Meriwether as Sister Robert Anne.
SYNOPSIS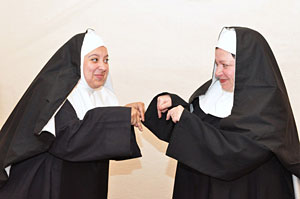 Five of the 19 surviving Little Sisters of Hoboken, a one-time missionary order that ran a leper colony on an island south of France, discover that their cook, Sister Julia, Child of God, accidentally killed the other fifty-two residents of the convent with her tainted vichyssoise while they were off playing bingo with a group of Maryknolls. Upon discovering the disaster, Mother Superior had a vision in which she was told to start a greeting card company to raise funds for the burials. The greeting cards were an enormous success and, thinking there was plenty of money, the Reverend Mother bought a VCR and camcorder for the convent, leaving her with no money in the kitty to pay for the last four burials. With the deceased nuns on ice in the deep freeze, they decide to stage a variety show in the Mount Saint Helen's School auditorium to raise the necessary amount. Participating in the project are Mother Superior Mary Regina, a former circus performer who can not resist the spotlight; her competitive but dignified rival, second-in-command Sister Mary Hubert; Sister Robert Anne, a streetwise nun from Brooklyn; Sister Mary Leo, a novice who is determined to be the world's first ballerina nun; and wacky, childlike Sister Mary Amnesia, who lost her memory when a crucifix fell on her head. The entertainment that they present includes solo star turns, madcap dance routines, and an audience quiz.
Naturally, VCRs and camcorders are now no longer such current or expensive devices, so modern presentations of the show tend to substitute newer or more generic terms such as "home entertainment system" or a "plasma TV".
SONGS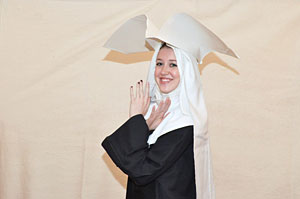 Act I
"Welcome"—Sister Mary Regina
"Nunsense is Habit-Forming"—Company
"A Difficult Transition"—Company
"The Quiz"—Sister Mary Amnesia
"Benedicite"—Sister Mary Leo
"The Biggest Ain't the Best"—Sisters Hubert and Leo"Playing Second Fiddle"—Sister Robert Anne
"So You Want To Be a Nun"—Sister Mary Amnesia
"Turn Up the Spotlight"—Sister Mary Regina
"Lilacs"—Sisters Regina, Hubert, Leo and Amnesia
"A Word from Reverend Mother"—Sister Mary Amnesia
"Tackle That Temptation With a Time Step"—Sister Hubert and Company
Act II
"Robert to The Rescue"—Sister Robert Anne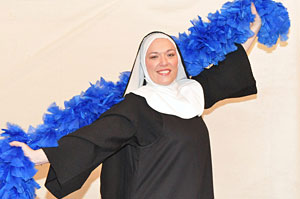 "Growing Up Catholic"—Sister Robert Anne with Hubert, Leo and Amnesia
"We've Got To Clean Out the Freezer"—Company
"Just a Coupl'a Sisters"—Sisters Regina and Hubert
"The Dying Nun Ballet"—Sister Mary Leo w/Robert Anne
"Baking with the BVM"—Sisters Regina, Hubert & Amnesia
"I Just Want To Be a Star"—Sister Robert Anne
"The Drive In"—Sisters Robert Anne, Amnesia and Leo
"The Movie"—Company
"I Could've Gone to Nashville"—Sister Mary Amnesia
"Gloria in Excelsis Deo"—Sister Mary Regina and Company
"Holier Than Thou"—Sister Mary Hubert and Company
"Nunsense Is Habit-Forming (Reprise)"—Company

CAST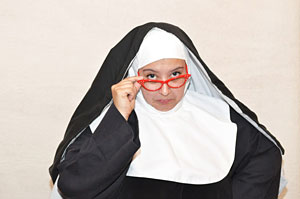 Sister Mary Regina (Reverend Mother) - Cat Heidel
Sister Mary Hubert (Mistress of Novices) - Meredith Walker
Sister Robert Anne - Janice Gabriel
Sister Mary Amnesia - Jody Bayer
Sister Mary Leo - Carly Phypers
Sister Julia, Child of God - Christina Balsama
Sister Mary Brendan - Tara Llewellyn
Sister Mary Luke - Caitlin Mandracchia
Sister Mary Wilhelm - Mary Shuldman
Sister Dr. Kessler - Barbara Kessler
Sister Conner - Dolly Conner
Sister Miller - Lindsay Miller
Father Virgil - Paul Stein
Altar Boy - Keenan Martin