The King and I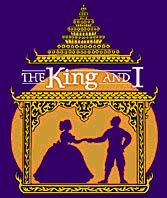 August 3-19

Book by Oscar Hammerstein II

Music by Richard Rodgers

Lyrics by Oscar Hammerstein II

Based on the novel Anna and the King of Siam by Margaret Landon

Directed by John Van Druten

Choreographed by Jerome Robbins

Opened March 29, 1951 at St James theater on Broadway and ran 1246 performances



Pictured are: Front row (l. to r.): Jessica Schwartz (Brookfield), Bing Gaumer Klein (Norwalk), Olivia Minor (Danbury), Brooke Morris (Danbury) and Seamus Oeser (Brookfield).
Middle row, l. to r.: Molly Gaumer Klein (Norwalk), Patty Kohn (Weston) and Priscilla Squiers (Danbury).
Back row (l. to r.): Anna Oeser (Brookfield), Zachary Jackson (Danbury), Fallon Oeser (Brookfield), Johann George (Brookfield), Allie Bukowski (Danbury) and Deanna Lasco (New Fairfield).
Missing from photo is Kayla Paige Fuhst of Carmel, NY.

photo by Kerry Long KerryLongPhoto@gmail.com
Synopsis:
ACT 1

The musical opens on a sailing vessel carrying a widow, Mrs Anna Leonowens and her son Louis towards Bangkok. The time is the early 1860's. Anna, who has been appointed governess to the children of the King of Siam, is greeted by the Prime Minister. He has been assigned to show Anna to her rooms in the Palace. Anna is not pleased: she had been promised a monthly salary and a house of her own; but she agrees to go to the Palace to speak with the King.
A courtier, Lun Tha arrives from Burma with Tuptim, a present to the King. Sadly Lun Tha and Tuptim have fallen in love, but cannot be together. Anna is introduced to the King who dismisses her request for a house. Lady Thiang, the head wife, tries to explain the situation to Anna, but she has already formed her own opinion of the King's manner.

When the children are introduced to Anna, her apprehensions are quelled as she falls in love with them. She begins teaching, enjoying the new challenges, but meets difficulties explaining snow to children who have never seen it, and explaining Burma's presence on the World Map. The King is supportive and secretly seeking to learn all he can himself, but angers Anna with his constant dismissal of any promise of a house.

Lun Tha and Tuptim continue to meet secretly, chaperoned by Anna.
Lady Thiang begs Anna to go to the King who, having received a letter from the British suggesting he is a barbarian, is in need of advice but too proud to ask for it. Anna goes to the King and plans are made that a visit by the British diplomat Sir Edward Ramsay will be an opportunity to put on a dinner, ball and play to try to create a better impression. The Act closes with the King ordering the court to pray for help in their cause, and making a promise to Anna to give her the house she has pestered him for.

ACT 2

The dinner is a great success, despite the discomfort of the King during Tuptim's presentation of "The Small House of Uncle Thomas", and Sir Edward leaves persuaded that the King and his regime are not barbaric. The King is pleased with Anna and in their growing friendship is enforced by the King's insistence that Anna teach him the "English dance".

The mood is broken with the news that Tuptim and Lun Tha have vanished together. On their discovery, Lun Tha is killed and Tuptim returned to the Palace. The King is enraged and, about to whip Tuptim, is reminded by Anna that the action is savage and barbaric and that this is a trait he had strived so hard to reject. The King turns away. Anna packs her bags, feeling unable to stay she plans to embark the next boat leaving Bangkok.

Then she receives a note from the King, who is dying, expressing his gratitude to her. Anna reaches the King just in time. He is surrounded by his wives and children who beg her to stay. Anna realizes how much she loves then and they need her, especially Prince Chululongkorn, who will succeed his father. She agrees to stay, whereupon the King dies.

Song List
Overture
I Whistle A Happy Tune
My Lord And Master
Hello, Young Lovers
The March Of The Siamese Children
A Puzzlement


Getting To Know You
We Kiss In A Shadow
Shall I Tell You What I Think Of You?
Something Wonderful
I Have Dreamed
Shall We Dance?
Distinctions
Winner of five Tony Awards in its original 1951 production and ten Tony Awards for the 1996 revival. Revived on Broadway in 1977 and 1985 with Yul Brynner as the King, and in 1996 with Lou Diamond Phillips as the King and Donna Murphy as Anna.

Cast:
CHILD - Allie Bukowski
KRALAHOME - Joseph Bukowski
WIFE - Kaitlyn Fay
WIFE - Charity Ferris
WIFE - Carrie Gallagher
WIFE - Erin McDonald
CHILD - Olivia Minor
CHILD - Kayla Paige Fuhst
CHILD - Shannon Gaffrey
CHILD - Molly Gaumer Klein
CHILD - Bing Gaumer Klein
CHILD - Johann George
CHILD - Zachary Jackson
CHILD - Patty Kohm
CHILD - Deanna Lasco
WIFE - Courtney Lepere
INTERPRETER,Phra Alack - Carl Lepere
LUN THA
KING OF SIAM - Damian Long
LOUIS - Kieran Minor
CHILD - Brooke Morris
CHILD - Fallon Oeser
CHILD - Seamus Oeser
CHILD - Anna Oeser
WIFE - Liz Ommundsen
PRINCE CHULULONGKORN - Sammy Panzarino
WIFE - Melanie Romano
CAPT ORTON, SIR RAMSAY - Ted Schwartz
CHILD - Jessica Schwartz
TUPTIM - Betsy Simpson
LUN THA- Robert Sniffin
ANNA - Priscilla Squiers
WIFE - Margo Virzera
LADY THIANG - Erin Volpintesta
WIFE - Amelia Wellers
Subscribe to our newsletter!
* required
Email & Social Media Marketing by VerticalResponse