Into The Woods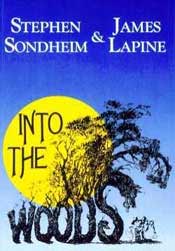 PERFORMANCE DATES: June 16,17,18,19,24,25,26, July 1,2

Music and Lyrics by Stephen Sondheim

Book by James Lapine


DIRECTED by Kyle Minor

SET DESIGNER Christopher Gladysz

LIGHTING DESIGNER Eric Schutz

TECHNICAL DIRECTOR Kristina Bjelko

Synopsis:

This lively and deliciously humorous Tony Award-winning musical cleverly intertwines the lives of several well-known storybook characters (Cinderella, Jack (of beanstalk fame), Little Red Riding Hood and Rapunzel) with an original story about a childless baker and his wife who journey into the woods to reverse the curse that has kept them childless. The search for a cow, a red cape, a golden slipper and yellow hair leads the characters down many unexpected paths and ultimately into a journey of self-discovery that goes beyond "happily ever after." Sprinkled liberally with magic beans, a witch's curse, soaring melodies and witty dialogue, this 1987 Broadway blockbuster serves up a potion that is at once fiercely comic and deeply moving. Songs from the popular Sondheim score include the oft-recorded "Children Will Listen," "No One is Alone," "Giants in the Sky," "Agony" and the infectious title song. The Broadway production originally starred Bernadette Peters as the Witch, and was revived in 2002 with Vanessa Williams.



Subscribe to our newsletter!
* required
Email & Social Media Marketing by VerticalResponse