The Sound of Music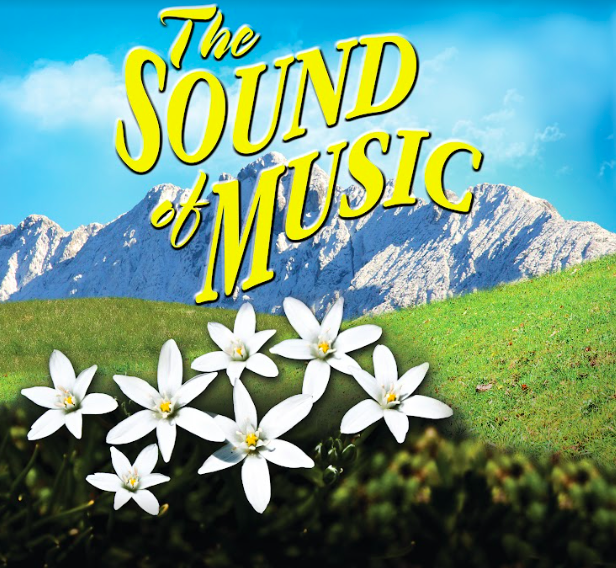 July 22 - August 6

Special Performance July 29
with American Sign Language interpretation

******************************************


Review:
THE SOUND OF MUSIC at Musicals At Richter
starring a phenomenal cast

Broadway World Connecticut
by Sean Fallon

"A truly first-rate production,
a phenomenal performance of one of the
greatest musicals ever written!"

click HERE for review

******************************************
Click HERE to Purchase Tickets
******************************************
Director
Jess Smith

Musical Director Choreographer
Adam Snyder Lindsay Miller


Music by Richard Rodgers
Lyrics by Oscar Hammerstein II
Book by Howard Lindsay and Russel Crouse
Suggested by The Trapp Family Singers by Maria Augusta Trapp

Winner of 5 Tony Awards, including Best Musical

Winner of 5 Academy Awards, including Best Picture and Best Music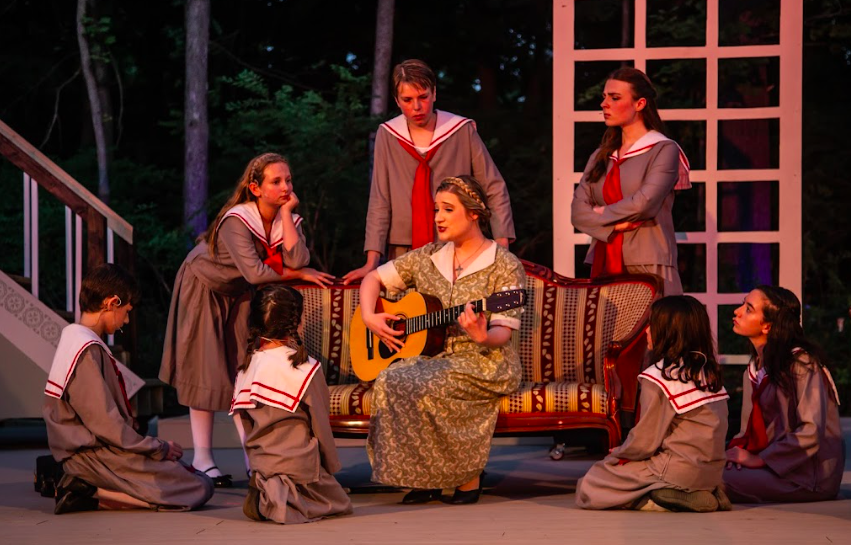 The Sound of Music features a talented cast of MAR veterans and newcomers.
Taking on the iconic role of Maria Rainer is Emily Walsh, who last appeared at MAR as Fiona in "Shrek." Rob Mayette, who played Bedevere in "Spamalot" and Bert Healey in "Annie" at MAR, portrays the stalwart but stern Captain von Trapp.

Claire Simard, last seen at MAR as Grace Farrell in "Annie,"
plays the Captain's wealthy love interest Baroness Schraeder
and MAR newcomer Christopher Hetherington portrays Max Detweiler,
an impresario and the Captain's charming freeloading friend.



******************************************
Click HERE to Purchase Tickets
******************************************
Captain von Trapp's seven unruly children feature Jillian Flynn as Liesl,
Austin Etzbach as Friedrich, Gabby Messina as Louisa, Jack Rand as Kurt,
Allyson Snyder as Brigitta, Kelly Inconstanti as Marta
and Charlotte Harrington as Gretl. All are making their MAR debut.
At Nonnberg Abbey, MAR veteran Priscilla Squiers portrays Mother Abbess,
Maria's mentor and advocate. She is joined by fellow MAR alums
Cathy Cavender as Sister Margaretta, Stacey Snyder as Sister Berthe
and Daisy Stott as Sister Sophia.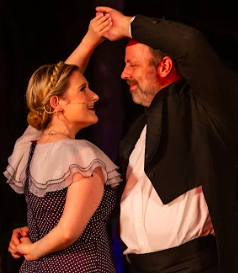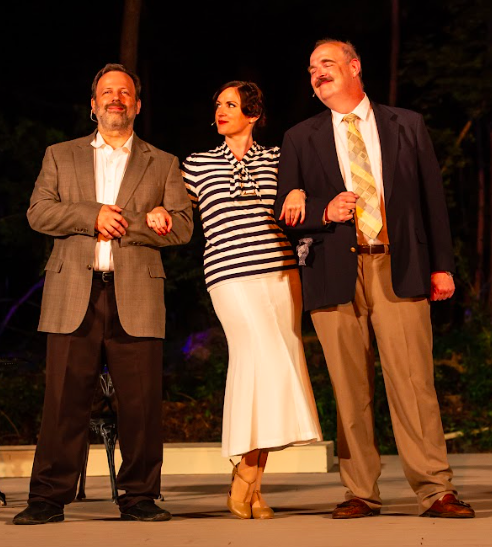 ******************************************
Click HERE to Purchase Tickets

Special Performance July 29
with American Sign Language interpretation

******************************************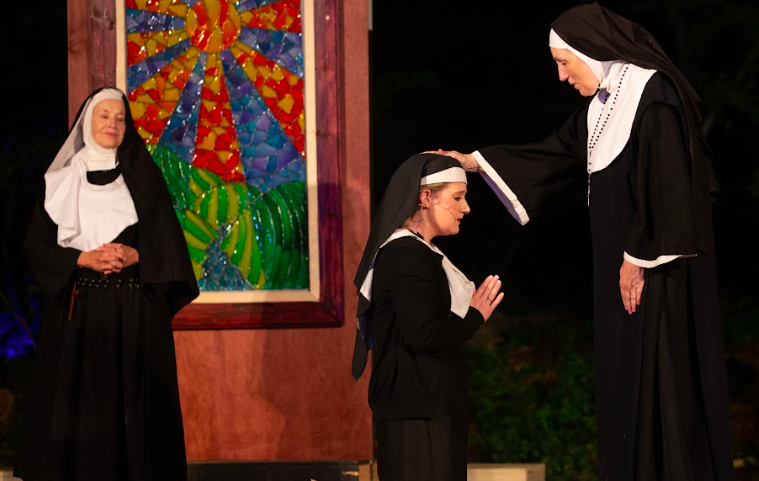 Others in featured roles include Vincent Fontenelli as Liesl's beau Rolf,
Elizabeth Czarsty as the von Trapp housekeeper Frau Schmidt,
and Robert Fontenelli as the von Trapp's butler, Franz.
Rounding out the cast in a variety of ensemble roles are Jacquelynn Matchen,
Paul Matchen, Rachelle Matchen, Tyler Wolfson, Rachel Volpe, Dolly Conner,
Melisa Garcia, Beth McGuire, Amanda Thomas,
April Smith, Molly Tarnowski,and Renėe Browne.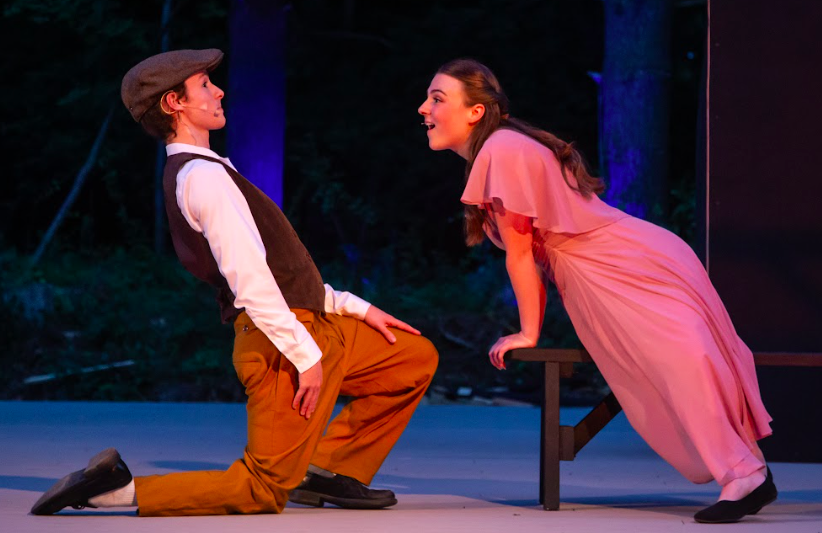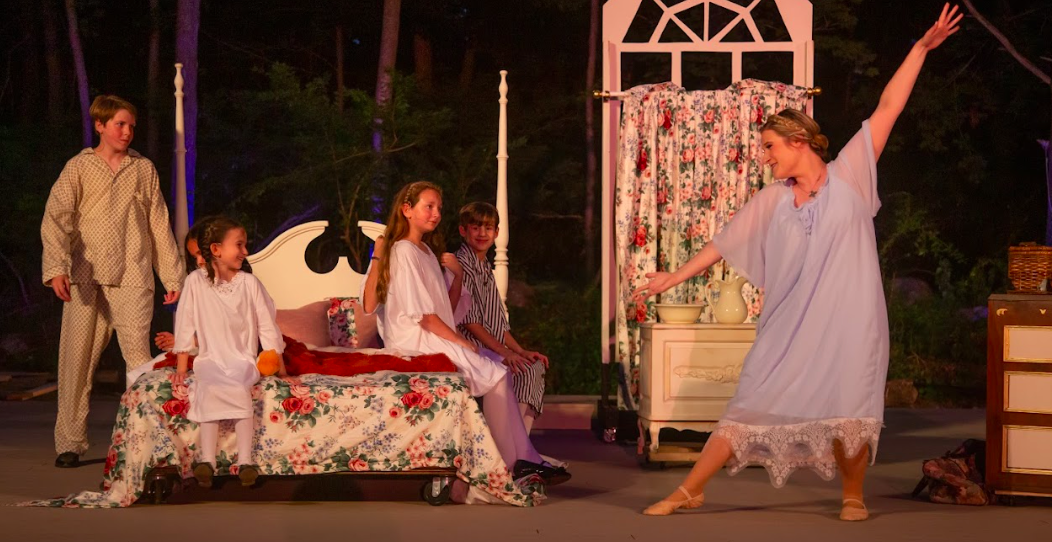 July 28, 29, 30, & 31
August 4, 5, & 6

Special Performance July 9
with American Sign Language interpretation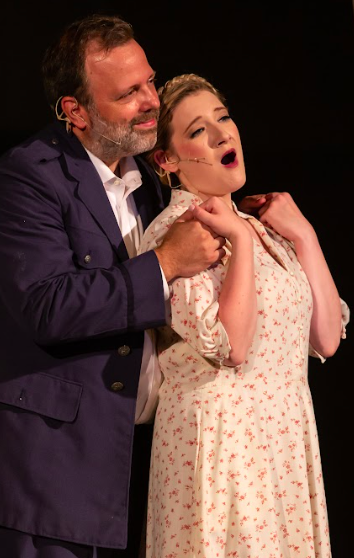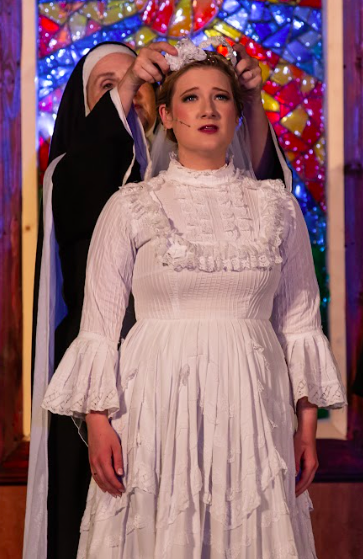 The final collaboration between Rodgers and Hammerstein was destined to
become the world's most beloved musical. Featuring a trove of cherished songs,
including "Climb Ev'ry Mountain," "My Favorite Things," "Do Re Mi," "Sixteen
Going on Seventeen" and the title number, THE SOUND OF MUSIC won the
hearts of audiences worldwide, earning five Tony Awards and five Oscars. The
inspirational story, based on the memoir of Maria Augusta Trapp, follows an
ebullient postulant who serves as governess to the seven children of the
imperious Captain Von Trapp, bringing music and joy to the household.
But as the forces ofNazism take hold of Austria, Maria and the
entire Von Trapp family must make a moral decision.

Click HERE to Purchase Tickets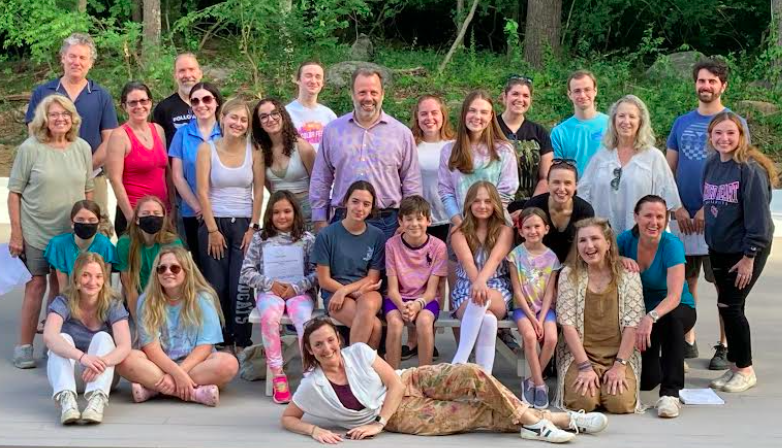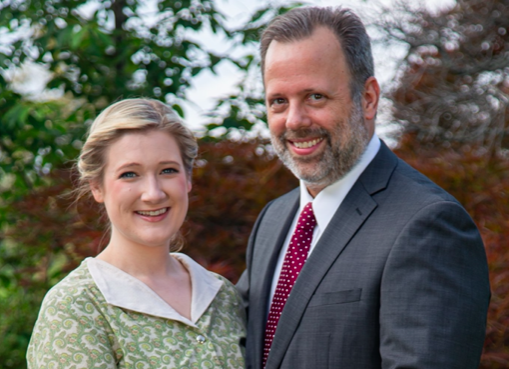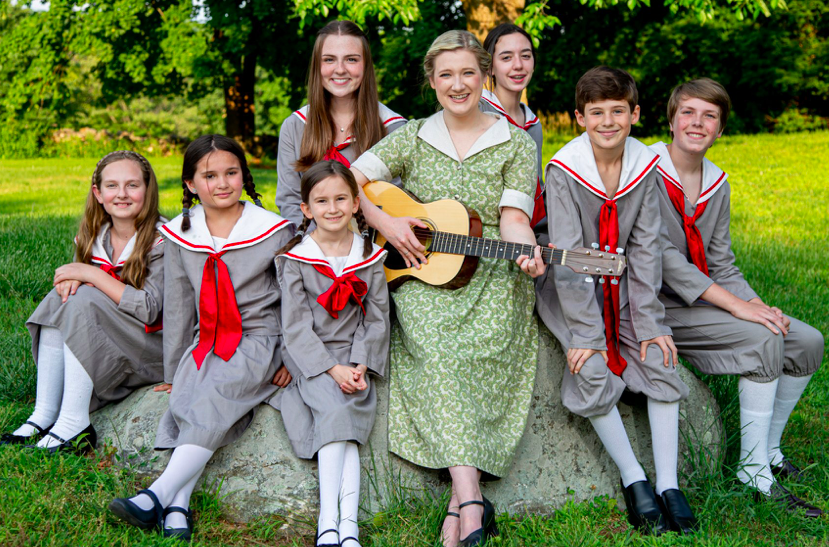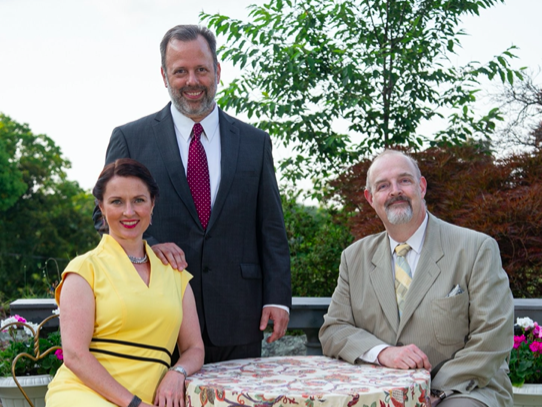 Click HERE to Purchase Tickets
**************************************************************

Cast
Allyson Snyder --- Brigitta
Amanda Thomas --- Nuns Ensemble / Party Guest
April Smith --- Nuns Ensemble / Party Guest
Austin Etzbach --- Friedrich
Beth McGuire --- Nuns Ensemble / Ursula
Catherine Cavendar --- Sister Margaretta
Charlotte Harrington --- Gretl
Chris Hetherington --- Max
Claire Simard --- Elsa
Daisy Stott --- Sister Sophia
Dolly Conner --- Fraulein Schweiger / Party Guest
Elizabeth Czarsty --- Frau Schmidt
Emily Walsh --- Maria
Gabby Messina --- Louisa
Jack Rand --- Kurt
Jacquelynn Matchen --- Party Guest / Abbey child
Jillian Flynn --- Liesl
Kelly Inconstanti --- Marta
Melisa Garcia --- Nuns Ensemble / Party Guest
Molly Tarnowski --- Nuns Ensemble / New Postulant
Paul Matchen --- Admiral Von Schreiber
Priscilla Squiers --- Mother Abbess
Rachel Volpe --- Nuns Ensemble / Frau Zeller
Rachelle Matchen --- Party Guest / Abbey child
Renee Browne --- Nuns Ensemble / Baroness Elberfeld
Rob Mayette --- Captain Von Trapp
Robert Fontenelli --- Franz
Stacey Snyder --- Sister Berthe
Tyler Wolfson --- Herr Zeller
Vincent Fontinelli --- Rolf
**********************************************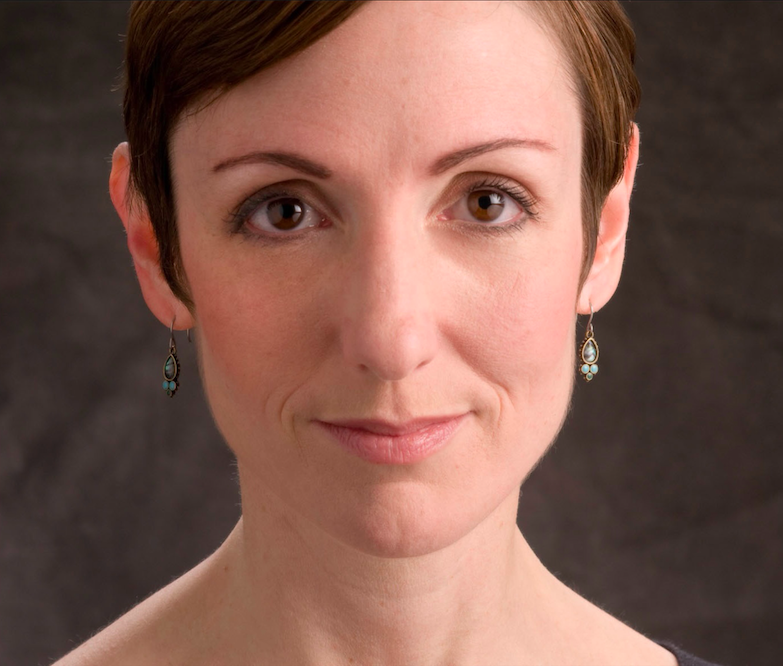 Jessica Smith (Director) is an adjunct professor of musical theater at Sacred Heart University, a graduate of the Boston Conservatory, and a theater educator and director-at-large. She has been a director, vocal director, acting and voice coach for more than 20 years in CT, NY and MA. Jessica has worked as vocal director on many productions over the years, and a few favorites are Godspell, Merrily We Roll Along, Annie, and The Mystery of Edwin Drood, among others. Directing credits include Annie, Durang Outdoors, Singing In The Rain, The Snow Queen, You're A Good Man Charlie Brown, Oliver, The Odd Couple, A New Brain, and more. For many years, Jessica offered private training, working with high school students focused on preparing for the college audition process. Jessica's performing credits have included several productions here on the Richter stage, during some of the most enjoyable and rich summers of her life (Wonderful Town, Oliver, Once Upon a Mattress, and more). She is thoroughly excited to be back for another season under the stars, directing an all-time favorite of hers, The Sound of Music.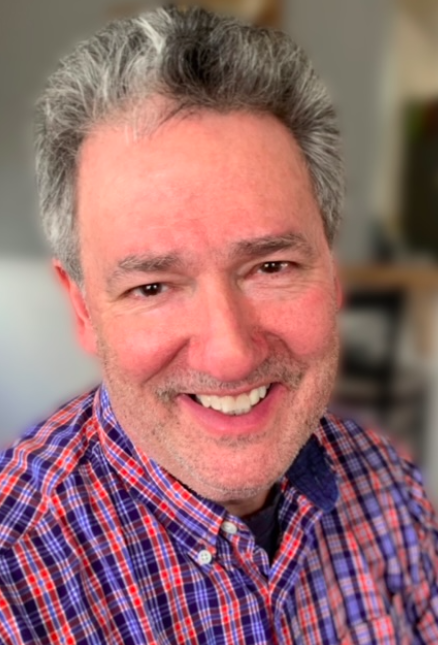 Adam Snyder (Musical Director) is very excited to be musical director for "The Sound of Music." This is his first show for Musicals at Richter. A drummer by trade, Adam has played on Broadway, and did the first National Tour of "Movin' Out." He has also performed with many famous artists in an assortment of musical adventures. Locally, Adam has served as pianist/musical director for "American Idiot" and "Disaster" at the Brookfield Theater for the Arts and for "Pippin," "Shrek," "Seussical," and "Chicago" at several Connecticut high schools. Adam resides in Brookfield with his wife, Stacey, and their children, Miles and Allyson.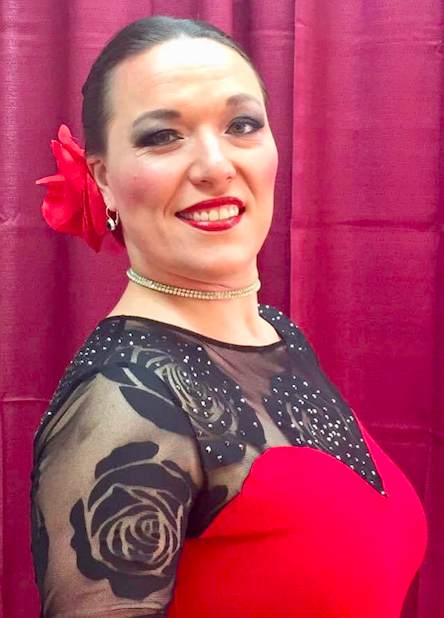 Lindsay T. Miller (Choreographer) Most recent MAR credit: choreographer for Shrek The Musical, 2019. Previous MAR shows: Carousel, Sweeney Todd, Nunsense, Brigadoon, Some Enchanted Evening, and Sweet Charity. MAR Board of Directors (Treasurer) 2012-2013. Extensive background in dance performing, teaching, and competing in ballet, tap, jazz, modern, ballroom and Latin. BA in English Lit, minor in Theatre - Binghamton University, 2006. Choreography credits: The Will Rogers Follies, Nunsense, Little Shop of Horrors, Spelling Bee (Spotlight Theater Productions), Hollywood: Big Band Style, Pride & Prejudice (County Players), Crazy For You, High School Musical, Mary Poppins, The Addams Family, Urinetown, A Year With Frog & Toad, Newsies (John Jay High School). Currently Development Coordinator for United Way of the Dutchess-Orange Region and teaching at In Motion Dance Center, LaGrangeville, NY.
*********************************************************************************************************
Character Breakdown
Maria Rainer (20-35; soprano/musical theater mix; moves well) A young postulant at Nonnberg Abbey. Spirited, passionate and charming, though occasionally filled with self doubt. Determined, yet caring and kind.
Captain von Trapp (35-60; baritone) A retired Austrian naval captain. Polished, yet very military in the way he runs his life to repress his sadness over the death of his wife; underneath, he is warm, understanding, and determined.
Max Detweiler (35-60; tenor/baritone) Charming and vital; a man of sophistication who enjoys the good life; true and loyal friend to the von Trapp family. Witty and clever impresario who can be charmingly pushy when pursuing what he wants; strong character actor with good sense of comedy.
Elsa Schrader (30-50; mezzo-soprano) A baroness of taste and elegance, sophisticated, dignified and mature. A wealthy widow, she is charming and clever.
Mother Abbess (40+; legit soprano, wide vocal range) Very strong actor. 
Motherly, understanding, strong and authoritative, but kind.

Featured roles:

Sister Berthe (Any age, alto, moves well)
 Mistress of Novices, prudish, straight laced with a quick tongue, she is less tolerant than other nuns.
Sister Marguerite (Any age, mezzo, moves well) 
Mistress of Postulants, very kind, understanding and concerned.
Sister Sophia (Any age, soprano, moves well) 
Neither demanding nor critical, sticks with the rules
Franz (30+, non-singing)
 The von Trapp butler, rather formal but not without spirit, he is very German and loyal to the Fascist cause.
Frau Schmidt (30+, non-singing)
 The housekeeper, stoic, very little personality; she does her job efficiently but without affection. Strong and somewhat dominating.
Herr Zeller (40+, non-singing)
 Stern and unsmiling, a typical Nazi official whose primary concern is to see that everyone toes the line.
Rolf Gruber (17, low tenor, comfortable with dance) 
Suitor to Liesl, telegram delivery boy, later Nazi soldier. A very pleasant young man, somewhat aggressive but in a gentle way.
Ensemble: Seeking diiverse performers (ages 16 and up) of various physical types to portray Nazi soldiers, neighbors, Salzburg 
citizens, nuns, novices, postulants and contestants in the Festival Concert.

von Trapp Children

Liesl von Trapp (16-18; mezzo-soprano; comfortable with dance) Eldest of the von Trapp children; a teen on the verge of womanhood. Innocent, naïve, and initially infatuated with Rolf. She has a maternal edge to her and cares very deeply for her younger siblings.
Friedrich von Trapp (14) Unchanged voice;. Tough exterior, trying to be the 'man' of the family.
Louise von Trapp (13) Initially mischievous, she eventually softens to Maria. Rebellious attitude.
Kurt von Trapp (11) Unchanged voice; inquisitive and adorable. He longs for love and attention from his father. Boy soprano with a high G
Brigitta von Trapp (10) Intelligent, independent, bookish, and thoughtful. She is always honest and is not afraid to speak her mind.
Marta von Trapp (plays age 7) Sweet and gentle.
Gretl von Trapp (plays age 5) Must be at least age 6 to audition; adorable and at first somewhat shy, but warms to Maria immediately.