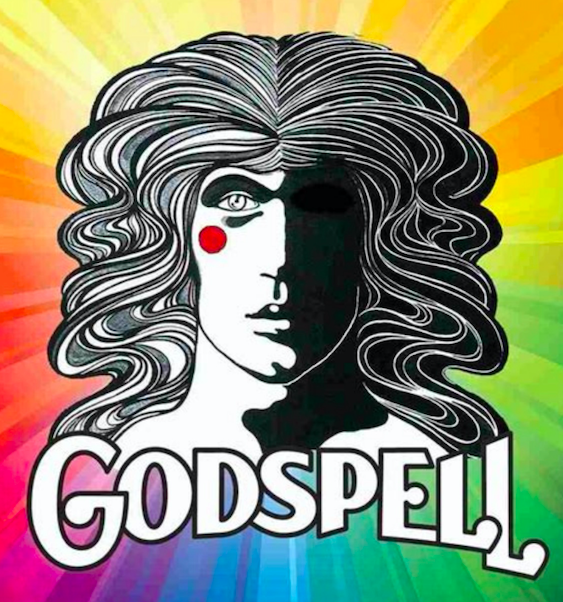 JULY 23 - AUGUST 7
Directed and Choreographed by
Bradford Blake

Music Direction by
Peter Randazzo
Book by John-Michael Tebelak
Music and New Lyrics by Stephen Schwartz
Conceived and Originally Directed by John-Michael Tebelak
Based on The Gospel According to St. Matthew
Based on the Gospel of St. Matthew, Godspell was conceived and
originally directed by John-Michael Tebelak, who also wrote the book.
The plot follows a small group of people who help Jesus Christ tell
different parables by using a wide variety of games, storytelling
techniques and hefty doses of comic timing.

An eclectic blend of songs, ranging in style from pop to vaudeville,
is employed as the story of Jesus' life dances across the stage.
Dissolving hauntingly into the Last Supper and the Crucifixion, Jesus'
messages of kindness, tolerance and love come vibrantly to life.
Led by the international hit, "Day by Day," Godspell features a parade
of beloved songs, including "Prepare Ye the Way of the Lord,"
"Learn Your Lessons Well," "All for the Best,"
"All Good Gifts," "Turn Back, O Man" and "By My Side."

Renee Browne (Patterson, NY)
Billy Hicks (New Milford) - Jesus
Samantha LaMendola (Brookfield)
Kyle Riedinger (Southington/Plantsville) - John the Baptist/Judas
Victor Garry Roldan (Bethel)
Kevin Sayour (Brookfield)
Daisy Stott (Brookfield)
Zach Theis (Hamden)
Tori Vacca (New Windsor, NY)
Sarah vonEgypt (Hopewell Junction, NY)

********************************
GODSPELL
CAST
Renee Browne is an educator, pianist, and singer who is thrilled to be joining the Richter tradition with this production of GODSPELL! Previous favorite roles include: Amalia in SHE LOVES ME, Lily/Christmas Past in A CHRISTMAS CAROL, and Laurey in OKLAHOMA! Renee has a music education degree from NYU and a masters from Goucher College. She has worked as a middle school choral director and the musical director for multiple junior theater productions. She currently accompanies for local music programs and theater productions, and previously taught piano and voice in Putnam County. On Sundays she helps to lead music at Lakeview Community Church in Carmel, New York. She wishes to thank Brad, Olivia, and the Richter team for this opportunity, as well as her voice teacher, Jessica Zamek. Special thanks to her family for supporting her during this production!
Billy Hicks (Jesus) is thrilled to be back at MAR after 10 years. He holds a B.M. in Vocal Performance from The Boston Conservatory and has been lucky to have traveled the world performing on contracts for Holland America Line cruises and for Tokyo Disneyland, as well as various regional theaters across the USA. Favorite roles include Gabe in NEXT TO NORMAL, Sid in THE PAJAMA GAME, Jack in INTO THE WOODS, and Marius in LES MISERABLES. Billy is currently working with Klemm Real Estate out of Washington Depot as a Realtor. Huge thanks to Brad Blake and this fabulous cast, and, as always, to my biggest fan -- Mom.
Samantha LaMendola is thrilled to be in her first role at Musicals at Ritcher! Recently you may have seen Sam as Sally Bowles in CABARET at the Sherman Playhouse. Some of her other favorite roles include Johanna in SWEENEY TODD, ,Wednesday in THE ADDAMS FAMILY and Linda Lou in THE BEST LITTLE WHOREHOUSE IN TEXAS. She is grateful for the love and support from her friends and family and could not be happier to be a part of GODSPELL!
Kyle Riedinger (John the Baptist/Judas) is thrilled to be joining the cast of Godspell for his first production at Musical at Richter. Kyle has recently been seen in productions such as THE DROWSY CHAPERONE (Feldzeig), DECADES: SOUNDS OF THE SEVENTIES (Core 4) at the Downtown Cabaret Theatre in Bridgeport. He also appeared at Downtown Cabaret in THE FULL MONTY (Dave) and MAMMA MIA (Eddie). Kyle would like to thank his father, mother, sister and wonderful boyfriend for all their support.
Victor Garry Roldan is a student at the American Academy for Dramatic Arts in Manhattan. They are incredibly excited to be performing live theater once again, and for the second time on the Richter stage. Their previous work includes WEST SIDE STORY here at Richter, and at the Brookfield Theater for the Arts, MR. BURNS: A POST ELECTRIC PLAY, THE BEST LITTLE WHOREHOUSE IN TEXAS, and THE WILD PARTY.
Kevin Sayour is enjoying his second season with Musicals at Richter, having previously performed in their 2016 production of HELLO DOLLY! Prior to that, he took part in several productions during his time at Brookfield High School, including GUYS AND DOLLS, THE SOUND OF MUSIC and LITTLE SHOP OF HORRORS. Kevin graduated with bachelors' of music education from Western Connecticut State University in 2019 and currently teaches at the elementary level in Bristol. He would like to thank Brad Blake for the opportunity, his fellow cast members for their friendship and hard work, and his mom for always pushing him to pursue his passions.
Daisy Stott is over the moon to be back onstage and back with Musicals at Richter! She has previously been seen in MAR productions such as INTO THE WOODS, LEGALLY BLONDE, ANNIE, and SHREK, to name a few. Daisy is also thrilled to be working with Bradford Blake, whom she loves very much and has worked with many times before in shows like CABARET and INTO THE WOODS, among others. Thank you to Daisy's parents, Polly and Steve, from whom she draws inspiration every day and loves more than anything! Enjoy the show, it's gonna be a good one!!
Zach Theis is a Minnesota native and graduate of The American Musical & Dramatic Academy in NYC. This is Zach's first production at Richter. His credits include Vocalist/Director, APRIL SHOWERS (2021, Town Players of Newtown; The Mummy, HAPPY HAUNTS HOLLOW (2020, Pantochino Productions); Steven, STRAIGHT MEN CAN'T DANCE (2020, Brookfield Theatre for the Arts); Baritone, SMORGASBORD! (2020, Ridgefield Theater Barn); Mr. Majestic, GINGERBREADS OF BROADWAY (2019, Pantochino Productions); Man 4, IS THERE LIFE AFTER HIGH SCHOOL? (2019, Town Players of Newtown); Nicky, BELL, BOOK AND CANDLE (Player's Theater, NYC); Mark/Left Brain, VOICES IN YOUR HEAD (Player's Theater, NYC); Director, ELEVEN O'CLOCK @ 7:30 (Metropolitan Room, NYC); Playwright, LOVE COMES STANDARD (NYC & MN); Co-Composer/Lyricist, FAG HAGS (Players Theater, NYC). Zach has also appeared in CBS' "FBI", "FBI: Most Wanted", ID's "Evil Lives Here", and the upcoming "Inventing Anna" on Netflix. Zach is a Board Member of the Town Players of Newtown.
Tori Vacca is thrilled to be returning to the Richter stage in GODSPELL! Favorite credits include Dr. Charlotte (FALSETTOS); Jeannie (THE GREAT AMERICAN TRAILER PARK MUSICAL); Chrissy (HAIR); Mary Lane (REEFER MADNESS); Little Red (INTO THE WOODS, MAR 2017). So much love and appreciation to her SHU crew, family and friends for supporting the return of theatre!
Sarah vonEgypt is thrilled to be doing her first show at Richter. She currently resides in Hopewell Junction, NY. She is excited to be performing again since this is her first show since the pandemic started. She is currently going into her senior year getting her BFA in Musical Theatre at SUNY Cortland. When she is not doing theatre, some of her other hobbies include reading and doing yoga. Fun fact: this is Sarah's third time doing GODSPELL. She first did it as Jesus in GODSPELL, JR., and again as Gilmer at Our Lady of Lourdes High School. Other credits include Mary (THE CHILDREN'S HOUR), Patty (GREASE), and Little Sally (URINETOWN). Sarah would like to thank all of her family and friends for their love and support. She would also like to thank Brad, Peter, Olivia, and the entire cast of Godspell for making this a fun experience. Break legs, everybody!


********************************
CREATIVE TEAM
Bradford Blake (Director/Choreographer) is the Founding Artistic Director of Musicals at Richter in Danbury about to celebrate its 37th season. Locally his work has also been seen at TheatreWorks New Milford, the Ridgefield Theatre Barn, Sherman Playhouse, Western Connecticut State University, Southern Connecticut State University, the Bushnell Theatre in Hartford, the Shubert Theatre in New Haven and several theatres throughout the northeast and Manhattan.. An accomplished composer and lyricist as well, Brad is the author of SMORGASBORD!, STAY TUNED and his holiday "slay" ride,WRECK THE HALLS. Brad always says that his greatest talent is the ability to surround himself with talented, hard-working and nice people. The cast and crew of GODSPELL are a dazzling example of this. Next up for Brad is THE FANTASTICKS at TheatreWorks New Milford and then WRECK THE HALLS at the Sherman Playhouse.
Peter Randazzo (Music Director) last served as pianist and conductor for MAR's production of "Hello, Dolly!" in 2016. Long active in the theater community, he is one of the music directors for Curtain Call in Stamford where he will be doing "1776" after this production. He has also worked on many shows at area high schools including Amity and Cheshire High, where he conducted "Little Women" this past spring. Randazzo has been nominated several times for Best Music Director at the Connecticut H.S. Music Theater awards. He has worked as an instructor for the nonprofit organization KEYS, which provides free instrument lessons for Bridgeport students. He is the director of the Park Street Singers in New Canaan, and most recently served as music director for the TV show Vocal Match coming this fall.Peter lives in Trumbull with his wife Karen and two children, Nina and Danny.