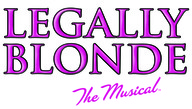 June 29 - July 14
Directed by
Lauren Nicole Sherwood

Choreographed by
Matthew Farina

Musical Direction
Zach Kampler

This year, the season kicks off with "Legally Blonde", based on the popular 2001
film of the same title. Dubbed "a high-energy hymn to the glories of girlishness" by
the New York Times,this big, heroine-worshiping musical follows Elle Woods, a
sorority girl who enrolls at Harvard Law School to win back her ex-boyfriend,
Warner. Throughout the show, no one has faith in Elle Woods, but she manages to
surprise them when she defies expectations while staying true to herself.

Featuring an infectious pop score by Laurence O'Keefe
("Heathers," "Batboy: The Musical") and Nell Benjamin,
and an effervescent book by Heather Hach.

This crowd-pleasingshow opens June 29,
and runs Thursday through Sunday evenings through July 14.
________________________________

Cast List

Elle Woods Melody Atkinson
Emmett Stephen Emerick
Warner Chris Balestriere
Callahan Bill Warncke
Brooke Janina Rosa
Vivienne Voni Allegra
Enid Maiya Urquhart
Paulette Aaron-Noel Treppeda
Kyle Matt Farina / Matt Blank
Margot Sarah Baker
Serena Margaret Buzak
Pilar Kate Patton
Kate Jean Marie McGrath
Gaelen Caitlin Burke
Leilani Sarah Brundage
Grand Master Chad/Nikos Will Armstrong
Elle's Dad/Pforzheimer Rob Mayette
Winthrop/Dewey Robert Bria
Lowell/Ensemble Will Dooley
Aaron Kevin McNulty
Padamadan Ethan Beaulac
Whitney/Ensemble Renee Cunnigham
Elle's Mom/DA Joyce Riley Alysia Ross
Carlos Joe Riedel
Judge/Delta Nu Sarah Brundage
Court Stenographer Dolly Conner
Chutney/Delta Nu Monica Castillo
Delta Nus/Ensemble
Haley Huxley
Maddy Oldham
Daisy Stott

Female Ensemble
Madeline de la Parra
Emily Malavenda
Abby Giansiracusa
Emma Lubbers
Jenna Vieux

Male Ensemble
Daniel Pettibone
Andrew Kocur
Vincent Fontenelli
Robert Fontenelli