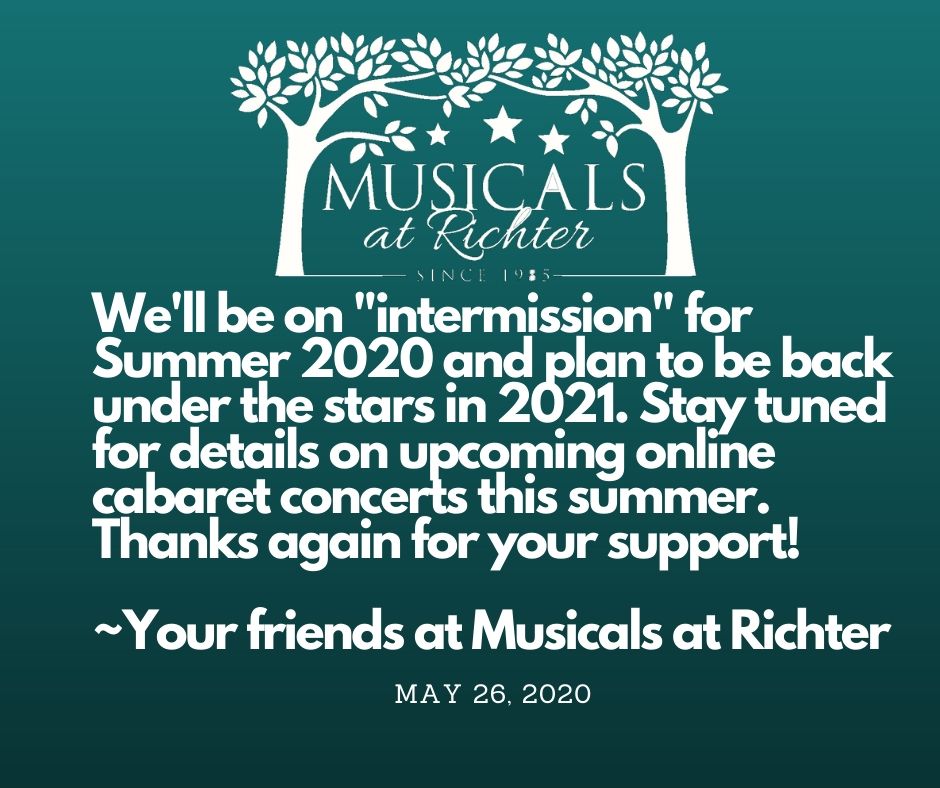 Musicals at Richter has decided to cancel
its 2020 onstage season line-up
and summer youth workshop
due to ongoing concerns
over the COVID-19 pandemic.

We were hopeful that we would be able to present performances under the stars
this summer, but in the final analysis, we realize that we can't safely
produce our mainstage shows or children's programming
given the concerns and changing landscape of this pandemic.


By their nature, theatrical productions - with intensive acting, singing
and dancing - require performers, technicians, and musicians to work in close
physical proximity to each other. Our audiences enjoy the performances with
picnics and beverages, and attend the shows with numerous friends and
family of all ages. Richter's multigenerational, highly interactive
environment does not easily accommodate face masks,
social distancing and other recommended preventive protocols.


We're beyond disappointed to miss this summer season, but we join many other
theaters and community venues in choosing to take a pause - an "intermission" -
until we can safely return."



While the MAR stage will be dark this season, the theater is exploring plans for
several online cabaret evenings during the summer that will feature songs
and performers from throughout the organization's history.
____________________________________

see you under the stars soon!!!

_________________________________________________________________
About Musicals at Richter
Founded in 1985, Musicals at Richter is Connecticut's longest-running outdoor theater.
Performances are given on weekends at the Richter Arts Center
(next to the Richter Park Golf Course), 100 Aunt Hack Road, in Danbury.
Nestled in the hills of Western Connecticut, the Arts Center stage has served as the scenic
backdrop for over 88 musicals produced by Musicals at Richter,
as well as a professional springboard for hundreds of up-and-coming performers.
Support Musicals at Richter

Do you like what you see?
MUSICALS AT RICHTER NEEDS YOUR HELP!This wonderful theater organization has astounded and delighted audiences with energetic productions of some ofthe best that Musical Theater has to offer. We also continue to need your support. Support this important part of the arts in Greater Danbury. This is your community theater, in your community park.

Keep this theater running. Please give whatever you can – any and all contributions help. It's really easy to do so… just press the "Donate" button below to make a contribution right now. If you prefer, you can also mail a contribution to: Musicals at Richter, 100 Aunt Hack Road, Danbury, CT 06811. Also, don't forget to check with your employer!
Many employers will match employees' charitable contributions.