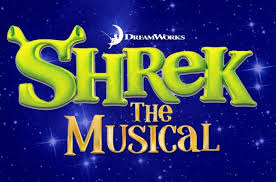 July 26 - August 10
Directed by
Lindsay O'Neil



SHREK (20-40's): The ogre. He has spent most of his life as on outcast, living in a swamp far from civilization. His crass and brutish exterior disguises a soulful and lonely heart – a multi-layer onion, if you will. Forced to leave the safety of his swamp on a quest to rescue a beautiful princess, our reluctant hero starts to discover what it means to hope for something more. Powerful presence, great wit, and an excellent voice.
FIONA (20's-30's): The damsel. Has spent most of her life locked in a dragon-guarded castle, reading fairytales about damsels being rescued by handsome and charming princes. After being set free, she tries desperately to play the part she read in her fairytale books: a spoiled, swooning, romantic princess destined to live happily ever after. But Fiona holds a secret: underneath the pretty dress lurks a clever, determined, tough-as-nails woman who isn't afraid of launching into hand-to-hand combat when necessary. Tap dance a plus.
DONKEY (20's-40's): The sidekick. Shrek's self-appointed side kick. Must be as charming as he is clingy. A bright-eyed motor-mouth whose eagerness and quick wit thinly veil his central and basic need – a friend. Must have a winning personality and effortless charm. Great comic chops with a funky vibe.
LORD FARQUAAD (20's-40's): The villain. A pompous and power-hungry little villain with a raging Napoleon complex and an intense dislike of all fairytale creatures. Always the perfectionist, he sets out to claim a beautiful princess as his bride, in order to ensure himself a royal title and a kingly throne. A strongly physical role as well, as the actor will spend the entirety of on-stage time on his knees.
DRAGON (20's-40's): A force to be reckoned with. Strong and powerful. Sings the brassy show stopper "Forever". Needs to be a stellar vocalist.
FAIRYTALE CREATURES:
GINGY, PINOCCHIO, BIG BAD WOLF, THREE LITTLE PIGS, WHITE RABBIT, FAIRY GODMOTHER, PETER PAN, WICKED WITCH, SUGAR PLUM FAIRY, UGLY DUCKLING, THREE BEARS, MAD HATTER, HUMPTY DUMPTY, ELF, DWARF, etc: All fairytale creatures have been banished from Duloc and are searching for a new home. Additionally, they yearn to just be accepted and understood for who they truly are, not what's written about them in the storybooks. Great singers, movers, and inventive actors.
ENSEMBLE:
LITTLE SHREK, MAMA AND PAPA OGRE, KING HAROLD AND QUEEN LILLIAN, YOUNG FIONA, TEEN FIONA, CAPTAIN AND HIS GUARDS, KNIGHTS, PIED PIPER, THREE BLIND MICE, BLUEBIRD, BISHOP, etc: Ensemble will play a variety of characters in our world. All must be great singers and dancers. Parts may be doubled as needed


Click HERE to view audition sides