The Sound of Music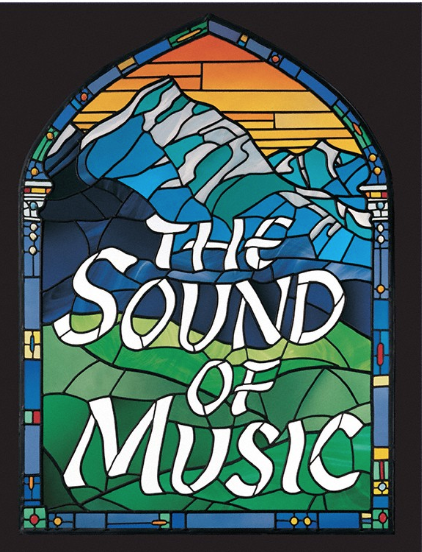 July 24 - August 8

Director & Choreographer
Karen Randazzo

Musical Director
Peter Randazzo

Music by Richard Rodgers
Lyrics by Oscar Hammerstein II
Book by Howard Lindsay and Russel Crouse
Suggested by The Trapp Family Singers by Maria Augusta Trapp

Winner of 5 Tony Awards, including Best Musical

Winner of 5 Academy Awards, including Best Picture and Best Music

The final collaboration between Rodgers and Hammerstein was destined to become the
world's most beloved musical. Featuring a trove of cherished songs, including "Climb Ev'ry
Mountain," "My Favorite Things," "Do Re Mi," "Sixteen Going on Seventeen" and the title
number, THE SOUND OF MUSIC won the hearts of audiences worldwide, earning five Tony
Awards and five Oscars. The inspirational story, based on the memoir of Maria Augusta
Trapp, follows an ebullient postulant who serves as governess to the seven children of the
imperious Captain Von Trapp, bringing music and joy to the household.
But as the forces ofNazism take hold of Austria, Maria and
the entire Von Trapp family must make a moral decision.

CAST
All roles are open; diverse candidates of all ethnic backgrounds are encouraged to audition.

Maria Rainer (20-35; soprano/musical theater mix; moves well) A young postulant at Nonnberg Abbey. Spirited, passionate and charming, though occasionally filled with self doubt. Determined, yet caring and kind.
Captain von Trapp (35-60; baritone) A retired Austrian naval captain. Polished, yet very military in the way he runs his life to repress his sadness over the death of his wife; underneath, he is warm, understanding, and determined.
Max Detweiler (35-60; tenor/baritone) Charming and vital; a man of sophistication who enjoys the good life; true and loyal friend to the von Trapp family. Witty and clever impresario who can be charmingly pushy when pursuing what he wants; strong character actor with good sense of comedy.
Elsa Schrader (30-50; mezzo-soprano) A baroness of taste and elegance, sophisticated, dignified and mature. A wealthy widow, she is charming and clever.
Mother Abbess (40+; legit soprano, wide vocal range) Very strong actor.
Motherly, understanding, strong and authoritative, but kind.

Featured roles
Sister Berthe (Any age, alto, moves well)
Mistress of Novices, prudish, straight laced with a quick tongue, she is less tolerant than other nuns.
Sister Marguerite (Any age, mezzo, moves well)
Mistress of Postulants, very kind, understanding and concerned.
Sister Sophia (Any age, soprano, moves well)
Neither demanding nor critical, sticks with the rules
Franz (30+, non-singing)
The von Trapp butler, rather formal but not without spirit, he is very German and loyal to the Fascist cause.
Frau Schmidt (30+, non-singing)
The housekeeper, stoic, very little personality; she does her job efficiently but without affection. Strong and somewhat dominating.
Herr Zeller (40+, non-singing)
Stern and unsmiling, a typical Nazi official whose primary concern is to see that everyone toes the line.
Rolf Gruber (17, low tenor, comfortable with dance)
Suitor to Liesl, telegram delivery boy, later Nazi soldier. A very pleasant young man, somewhat aggressive but in a gentle way.
Ensemble: Seeking diiverse performers (ages 15 and up) of various physical types to portray Nazi soldiers, neighbors, Salzburg citizens, nuns, novices, postulants and contestants in the Festival Concert.
von Trapp Children
Liesl von Trapp (16-18; mezzo-soprano; comfortable with dance) Eldest of the von Trapp children; a teen on the verge of womanhood. Innocent, naïve, and initially infatuated with Rolf. She has a maternal edge to her and cares very deeply for her younger siblings.
Friedrich von Trapp (14) Unchanged voice;. Tough exterior, trying to be the 'man' of the family.
Louise von Trapp (13) Initially mischievous, she eventually softens to Maria. Rebellious attitude.
Kurt von Trapp (11) Unchanged voice; inquisitive and adorable. He longs for love and attention from his father. Boy soprano with a high G
Brigitta von Trapp (10) Intelligent, independent, bookish, and thoughtful. She is always honest and is not afraid to speak her mind.
Marta von Trapp (plays age 7) Sweet and gentle.
Gretl von Trapp (plays age 5) Must be at least age 7 to audition; adorable and at first somewhat shy, but warms to Maria immediately.

*********************************************************************************************************

Karen Randazzo: Director / Choreographer
Karen was the artistic director for the American Theater Banquet Co. for five years, where she wrote, produced and directed five original shows each year. She was selected to produce and direct Side by Side for the Sondheim Composers' Festival at the University of Bridgeport, where she received her B.A. in Theater. The following year she was invited back for Leonard Bernstein's visit, and wrote and directed an original revue of his work, entitled Bernstein On Broadway. Karen has enjoyed directing at WCSU, Curtain Call Theatre (Stamford) and Danny's Skylight Room. Her original musical "Another Day in Paradise" was presented at the Triad, Zipper Theatre and Laurie Beechman Theatre in Manhattan, as well as at Downtown Cabaret Theatre in Bridgeport. She currently directs for Notre Dame High School. in Fairfield. Karen and her husband Peter have run a musical theater camp for 17 years in Trumbull, where they live. They also own Steppin' Out Entertainment which produces murder mysteries and The Christmas Show at dinner theaters throughout the state.
Peter Randazzo: Music Director
Peter Randazzo is a versatile actor, pianist and vocalist. In addition to performing throughout the Tri-state area, he has handled music direction for Musicals at Richter, Curtain Call (Stamford) and Westport Community Theatre. He has also served as music director for Amity and Cheshire High schools and has been nominated several times for best high school music direction. Peter has been a KEYS piano instructor in Bridgeport for the last 8 years, and teaches piano and voice at Rockwell Dance Center in Trumbull. He is also the director of the Park Street Singers in New Canaan Peter and his wife Karen own Steppin' Out Entertainment which produces murder mysteries and The Christmas Show at dinner theaters throughout the state. Peter and Karen reside in Trumbull with their two children, Nina and Danny.